Dear Donor and Supporter,

After EDF Foundation summarized the total number of 7,129 scholarships, which received during the First term/2016 donation period (From October 1, 2015 to May 31, 2016) for allocating to those eligible scholarship candidates of each program in this school year 2016. After that, EDF has communicated with almost 3,000 schools where all 7,129 eligible students are studying in this year to confirm their actual enrolment and presence in school in order to ensure that EDF scholarship fund will reach to the students that truly need it for educational purpose. The scholarship fund transfer process for the First term/2016 was completed successfully at the end of July 2016.

As previously informed that in this year, there are the number of 9,053 eligible scholarship candidates who passed our screening criteria and queue up for scholarship support, therefore, EDF decided to open the Second Term/2016 donation peiod, from June 1 until September 30, 2016 to extend the opportunity for those who missed the chance to get the scholarship support in the First term/2016 donation period.

After 3 months of fundraising for the Second Term/2016 donation period, to date August 31, 2016, the number of scholarship donation EDF has received for all program has risen up to 7,813 scholarships which causes the number of students who remain in the scholarship waiting list decrease down to 1,246 students (Scholarships for Students with Disabilities already exceed the target number of eligible students of this year) as detailed in the chart below.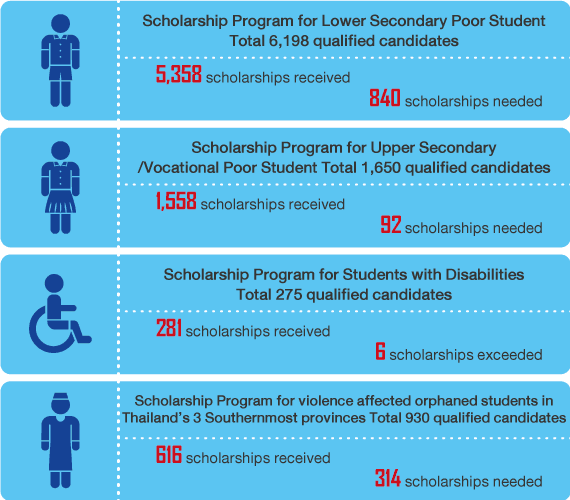 Today, we still need at least 1,246 scholarships to fulfill needs of those hope boys and girls who are now living in poverty and misery. For most of them, they are in risk of dropping out school just because they are poor. You can be the one to help them. Support a Child Today!

Our Second term/2016 donation period will last until September 30, 2016. You can help give them a brighter future by simply make your online scholarship donation directly through our secured online donation system in this website or contact us for more information at public@edfthai.org. We are glad to act as a medium to help you forward your kind support to a child in need.

All the scholarship funding donated through EDF serves to ease the crippling impact of poverty affects many rural students and their families. EDF is most appreciative of your entrusted contribution and strongly hopes for renewed pledges for many years to come.
Respectfully yours,
Sunphet Nilrat
EDF Managing Director












Remarks:
EDF is a registered charitable organization No.255, all donations to sypport EDF programs can be tax exempted in full extent allows by Thai law.

The First term donation period for the school year 2016 starts from October 1st, 2015 to May 31st, 2016

The Second term donation period for the school year 2016 starts from June 1st to September 30th, 2016