Without EDF's scholarship, I would not have been able to do that - I would not have been able to continue beyond primary school and my life today would be completely different.

Truthfully, when I was young, I never thought of myself as a good student. When I was in primary school my father passed away and my mother moved to Bangkok to find work. I went to live with my grandmother and I didn't have a lot of motivation to study at school. Luckily one of my teachers believed that I was hardworking and diligent. She encouraged me and she gave me the precious opportunity of being selected for an EDF scholarship. By the time I reached the 4thGrade I had gradually improved my grades. I received a scholarship from EDF between 1990 and 1992 which enabled me to complete the first three years of lower secondary school.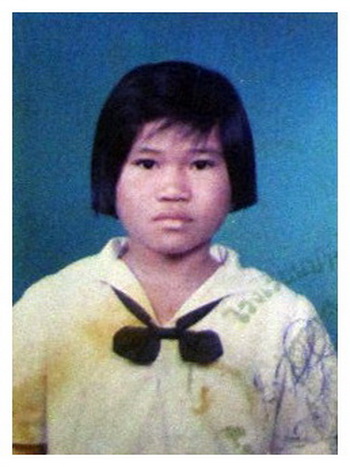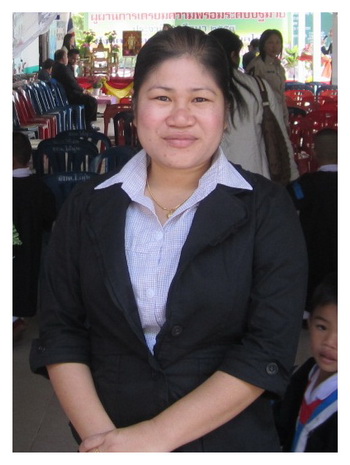 Sunawan's photo's taken in 1990 when she firstly awared with scholarship (Left)
and her recent photo taken in 2012 (Right)

I remember receiving 5 baht and a packet of rice to go to school everyday. I would divide this up, allocating 2 baht for transport, 1 baht for water and 2 baht for lunch. When I received a scholarship, I spent to buy basic school supplies and two school uniforms.

At the weekend, I would help my grandmother with household chores, such as tending to the cows and buffalos she kept. I spent the rest of my time reading.

One day, my teacher told me that a group of donors from EDF would visit my school. I was so excited and looked forward to the day as I wanted to meet my donor. I was even selected to perform a traditional Thai dance to welcome the visitors. Sadly when the group arrived I learned that my donor had not been able come. Many of my friends met and talked with their donors. It made me want to meet mine even more.

Shortly after, my mother remarried. We moved to Kalasin province where she and my stepfather worked on a farm to earn money to send me to secondary school. But it was not enough so I worked at the weekends planting tapioca and eucalyptus trees to earn more money to pay for my school fees. Life in those days was very difficult. When I finished grade 12, I learnt that the Thai Government were offering loans, so I borrowed money in order to continue my studies in bachelor degree. Because of the loan I was able to attend the a Rajaphat Institute in Mahasarakram. I majored in primary education and earned my Bachelor's degree in 1999, with honors.

After I graduated from university, I headed to Bangkok to find work. I tried lots of jobs including being a factory worker and a substitute teacher. But it was another difficult time and I learnt that it can be hard to live in the big city. I decided to move back home to northeastern Thailand to try and earn a living and to study for my teaching credentials in Kalasin province. By then I had decided that I wanted to teach - eventually I took the test, unfortunately I was never called back for an interview.

I applied to work as a civil service officer in a local district office. I was very glad to pass the test and to start working as an administrative officer. Before long I became an education analyst in Chiang Mai province. About a year later I moved back to Kalasin province.

Today, I work as a head of the educational, religious and cultural affairs division within my agency. I oversee educational activities in local schools, promoting the establishment of early childhood centers, as well as other educational objectives. We work in coordination with schools to organize school lunch programs and to provide milk to schoolchildren, involving the government in these activities. Our agency promotes religious activities in communities. It encourages the preservation of cultural heritage, supporting in particular the indigenous traditions of the northeastern people. In this position, we also work to promote sports, recreation and responsible tourism in local communities. I love my work – what we do makes a difference to so many lives.

I earned my Master's in Education Administration with the support of my local government management agency. Today, I am married and have two lovely children.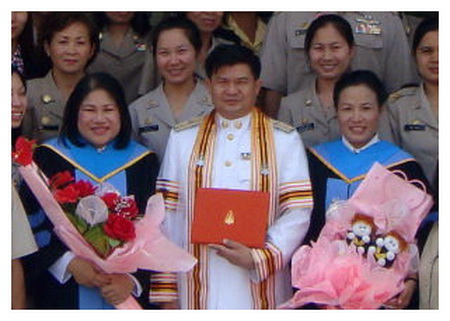 Sunawan (on the left) on her Master Degree graduation's day
The reason I contacted EDF after so long is because the impact of the scholarship they awarded me has always been in the front of my mind. I am always conscious of it. My EDF scholarship was the turning point in my life; the point at which a bright light shown on me and guided me to a brighter future.

I thank EDF and each and every one of their donors from the bottom of my heart. My scholarship changed my life and has given me and my family everything we have now. When I think of so many other poor Thai children who live without hope, I pray one day they will get the same opportunities as I did.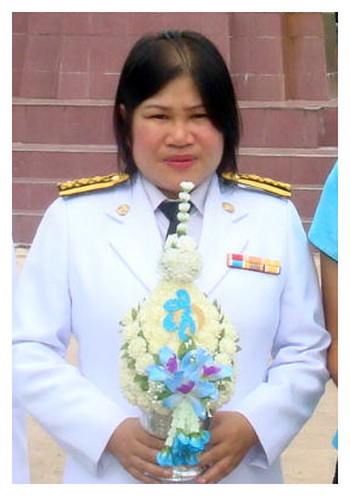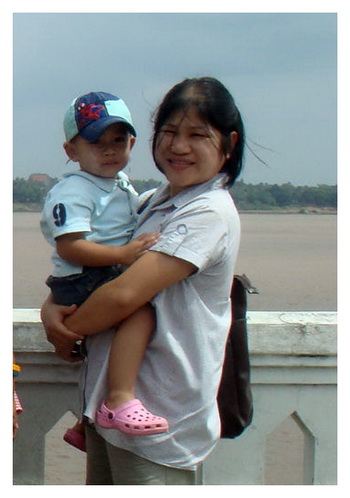 Sunawan in her official uniform (Left) and with one of her son (Right)

I sincerely hope that all the generous donors are confident that every Baht they donate is used to help poor Thai children. These donations can have a profound effect on a child's life and on the lives of all those the child will come into contact with as they grow up. A building or a temple may deteriorate with age, but knowledge and education can only bring betterment.

Thank you very very much.