Her father has worked as a construction worker in another province, Rayong, for many years.  He rarely sends money back home.  But if he sends some money, they will get just 1,000 bath from him.  It does not cover the expense of their family in which there are five members.  Nook has to work at weekends and help her mother with the housework as much as she can.
 
During rainy season, there is not so much work.  At weekends Nook and her mother have to enter the forest and find some stuff to sell at the market.  She has to wake up at 5 a.m. to enter the forest with her mother and finds some mushrooms and bamboo shoots.  Up until 10 a.m. they will be back home and pack the things found and gathered to sell at the market.   The villagers or teachers of her school are their customers.  Mushrooms cost 10 baht each pack and bamboo shoots 15 baht (500 grams each pack). Each time they can sell them at approximately  200 baht.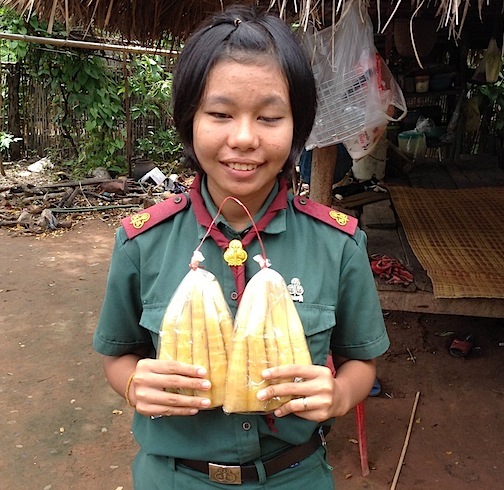 Nook shows the packed bamboo shoots in the plastic bags ready for sale in the market

The hard part is that every time they enter the forest, they have to carry those three little children on their backs since there is no one to take care of them. It is dangerous and the way up to the hill is also slippery. There are many poisonous wild animals such as snakes, centipedes which are usually in bamboo shoots and some damp places in the forest. Nook often slips and falls but luckily she does not hurt and is still all right.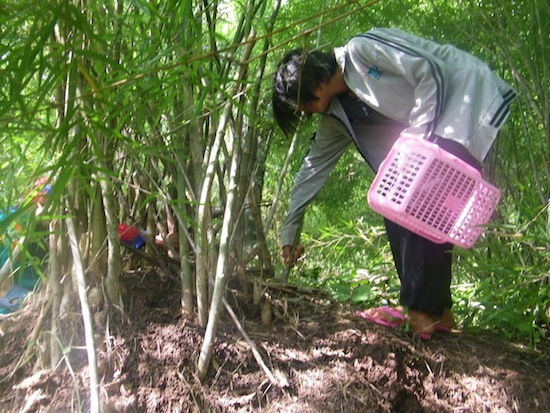 Nook while seeking for the bamboo shoots in the wild
 
Her teacher told us that "Nook is a fighter. She is well-behaved and diligent. She is so good at craving fruits and vegetables that she is usually the representative of the school to enter the art and craft contest.  She is glad that she got the EDF Scholarship which gives the opportunity to poor children like her to study as they wish to and as much as they can .  
 
Nook said about how she feels when she received the scholarship that "I would like to express my grateful thanks to the one who gave me the scholarship. I will spend the money on my education and keep some to undertake further study if I have a chance and I will do my best for becoming a good teacher one day."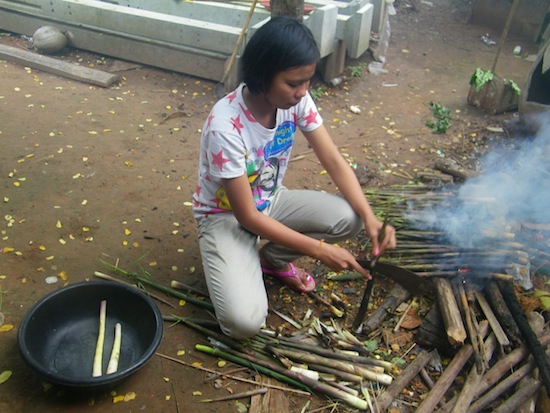 Nook while cleaning and cooking the bamboo shoots befor packing