Noi told us that "Every weekends, I usually help my grandparents selling food in the industrial park. My parents are now too old. I really feel sympathy to them because they hardly have enogh time to take a rest. But if we do not struggle to earn for a living, we could not survive."

Further to help her grandparents selling food, every morning at school, Noi also earns some daily allowance by herself by plait the hair in different styles for her friends and help her teacher make the handicraft for school activities. Therefore, Noi has been loved by all her friends and teachers at school.

Noi told us about her dream that "I dream to be a beautician in the future, but I promise that I will study hard to complete my secondary school first so that I can have better future like others do. If I could have my own beauty salon, I will earn and save up as much money as possible to buy a new house for my mom and my grandparents"

EDF strongly hopes that Noi's story could well represent the "Hope" and "Dream" for better life of other 2,531 less fortunte students that still awaiting for scholarship support in this school year 2014.

Noi or Pornchanok Panka, 14. and her grandfather at home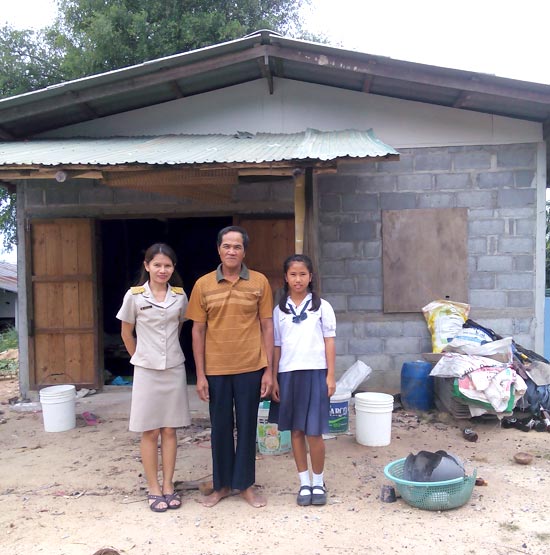 Noi with her grandfather and home room teacher in front of her grandparents' house