Supattra told us about the hardship of her family that "If mom does not go to work, we will have no money. Mom, then, has to borrow money from her relatives and give me to go to school. Some day, I have nothing to eat before going to school because mom has no money to buy food. I usually pack plain steamed rice to eat at school. My house has no electricity. We use candle or acetylene lamp at night. Everyday, I have to do home work and eat before it gets dark"

Supattra is a good and hard-working girl. Her academic performace is just average. She is a sort of quiet girl because of her family problem. However, Supattra always tries every means as she can to stay in school. She usually attends any academic contests that organized by the school, such as science quiz, essay writing or drawings, to hunt for awards to spend for her education. Although it is just a small amount of money, but she is very proud to help lessen the burden of her family.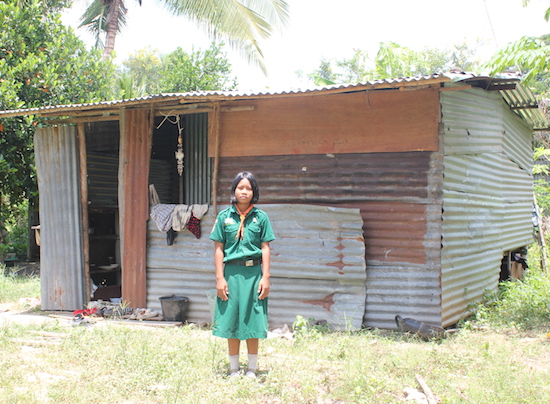 Supattra Somboon, 12, and her ruined house that she is currently living with her parents.

Supattra said about what she has dreamed to be in the future that "My dream occupation is to be a nurse because I like to help the others, especially the patients, elderlies, handicapped people or children. I will be hard-working and try my best on my studying until I could complete higher education to achieve my dream and better future"

At the present, Supattra is like "The Last Hope" of her family who could help bring her family to escape the vicious "Cycle of poverty" that previously eliminated the education future of her 6 elder siblings.

Supattra's story is just an example we pick up from thousands true stories of less fortunate students who have applied for EDF scholarships to continue their education in the coming school year 2015. For these children, poverty means more than just the lack of money, but it also means the lack of opportunity, especially "Education Opportunity" that is crucial to empower them with wisdom to truly change their own destiny by their own feet.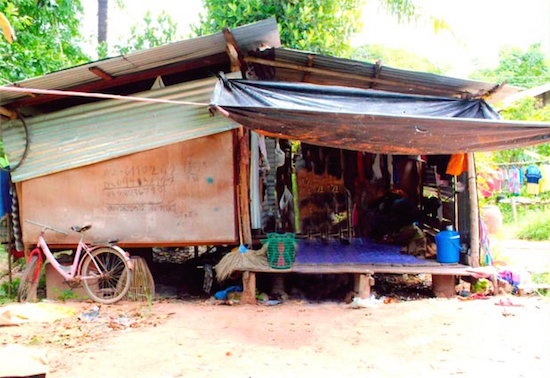 Photos of Supattra's house before covering with more metal sheets to prevent rain and cold.