November 13, 2014, was the day that the long wait had ended when Nikorn finally met with Mr. Yasuo Nishikawa, his scholarship sponsor, in Nong Kai province where Mr. Nishikawa has operated his foundation to promote the learning of Japanese language for Thai people. Also, he has ongoing contributed educational scholarship supports to Thai rural children.

Nikorn expressed his feeling that "When I first saw my sponsor, I was speechless and felt overwhelmed. He was also happy that I always recall him and it was so incredible that we could have a chance to meet each other again today "

"I told him about my studies in the past and my work at the present . We talked many things and many stories. It was such a wonderful moment for me"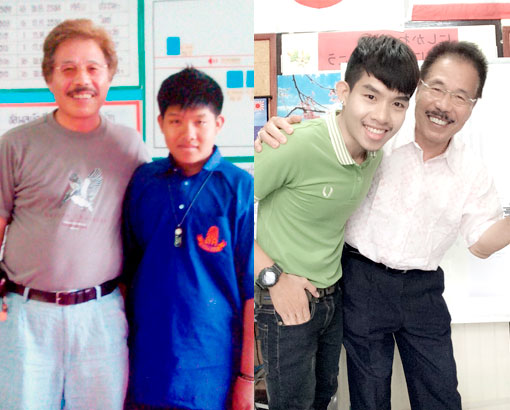 A memorable photo of Mr, Yasuo Nishikawa and Nikorn Suwaluck when they first met almost 10 years ago (Left) and when they meet each other again today (Right).
After a long talk, Mr. Nishikawa and Nikorn went for lunch outside together before Nikorn went back to his home in Udonthani province. Mr. Nishikaws said to him before leaving that he will seek for an opportunity to visit Nikorn's parents in his hometown in Roi-et province someday which made Nikorn felt so touched.

Nikorn said about his wonderful moment that "I felt so glad and impressed to meet again with my scholarship sponsor whom I have respected and adored him as my second "Father". From now on, I will seek for more chances to visit him and take care of him to repay for his kindness "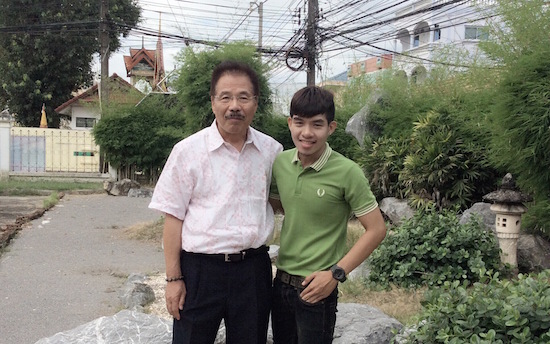 A meeting between Mr. Yasuo Nishikawa and Nikorn Suwaluck on November 13, 2014.