Pang's grandparents have no own land for agricultural farming like other villagers, so they make the best use of the surrounding areas around the house to grow a variety of vegetables like basil, chilli, lemongrass, morning glory, lemon tree, corn and banana. They also feed some poultry for eggs like duck anc chicken which can be consumed in the household and some can be sold in the fresh market and earn around 200-300 Baht a week.

Besides helping grandparents to look after her little brother and do chores, everyday in the morning and after school, Pang alsp helps watering the vegetable gaden and feed the poultry.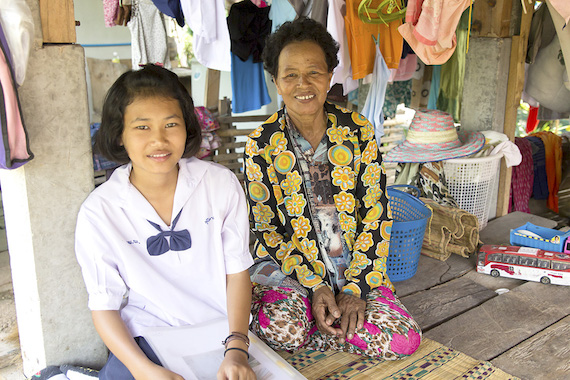 Pang" or Parichat Barun, 14, and "Poom", 57, her grandmother
Pang reminded us of when she knew she was granted with scholarship that
"When I firstly knew that I was granted with a scholarship to contiue my study from grade 7-9, I was very glad beacuse I was not a sharp girl in class. I rushed home to tell the good news to my grandparents and they told me to try my best on studying so that my sponsor would be proud of me"
"I spent the scholarship fund for my schooing equipments, stationeries, sport uniform and sneakers. For school unifrom, I use the old ones of my elder sister. Some remainng fund, I keep in the bank for my future education. I am grateful and thankful for the kindness of my scholarship sponsor who give me education opportunity and a better life today. I promise to be diligent and study hard. I will never make you feel upset to sponsor me"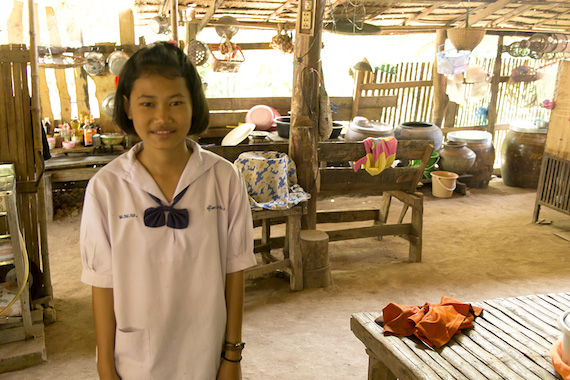 Inside Pang's house
Pang has a dream to spend another 3 years studying in a vocational school after fininshing grade 9 so that she can have some career skills and get a good job to earn money to look after her poor family and support her little brother's education until he gradudates higher education.
A scholarship fund that "Pang" and other scholarship students received is not only an "Opportunity" that could change their future forever, but it is also an important "Encouragement" to motivate and let them know that they are not fighting to the destiny alone, but there is "Helping Hands" from, at least, "Another caring people" in the society that lift them up and unlocki the window of opportunity for them eventhough they have never met each other before.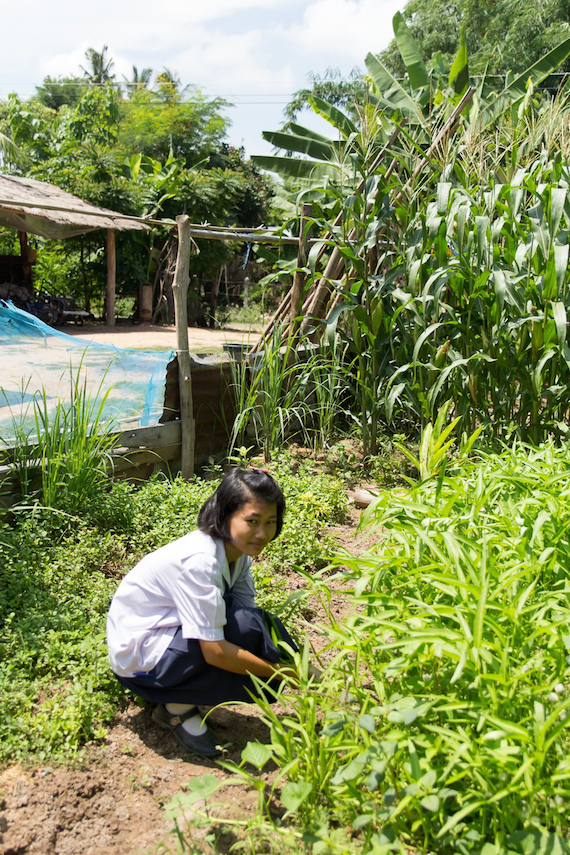 Vegeteable farming areas around Pang's house