But after the teacher had a chance to visit her house, talked with her grandmother and realised the problem she had faced, the teacher decided to submit her application for the scholarship from EDF so that she could further her study in the lower secondary school in the year 2017.

Ja lives with her 65-year-old grandmother in an old dilapidated one-storey shed. Her grandmother is a low pay menial worker with unstable income due to her poor health. her parents were separated since she was 3 years old. Her father re-married and used to visit her 2-3 times at school. But he has lost contact in the past 2-3 years. Her mother went to work in Phuket and come to visit home 1-2 times a year. Her mother sends some money to her grandmother around 1,000-1,500 baht once every 3-4 months.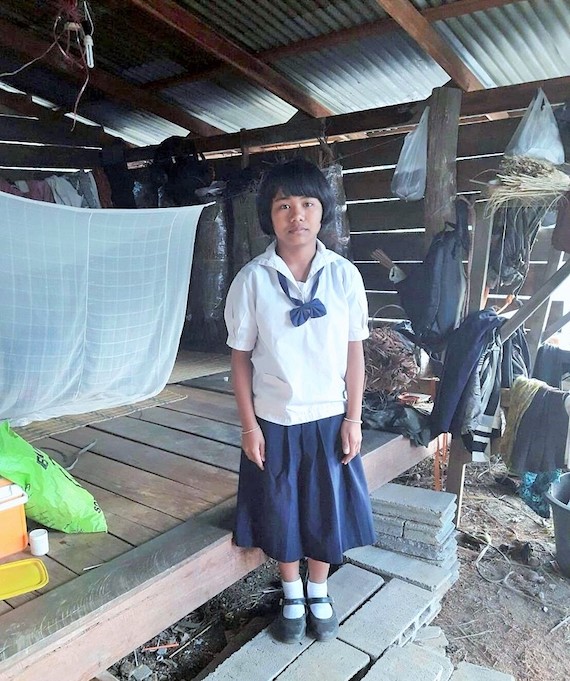 "Ja" or Sirikanya Banprakone, 14, with the old shed that she is living with her grandmother.

Her homeroom teacher told us that "After Ja's parents were separated, her father used to take her to live with his new family. But due to the fact that her father had to work in another province quite often, he had not enough time to take care of her study which cause she failed the exam and had to repeat her primary school year 1 for another year. After that her father decided to send her back to live with her grandmother and continued her study in the primary school year 2 at Ban Lamnangrong School, Buriram Province. But her grandmother was illiterate. So she could not give her any advice or guidance on her study which worsenJa's ability in reading and writing. Eventually, Ja could not catch up with her friends in class. However, Ja is a girl with great perseverance. She has tried hard and always been diligent. She never feels discouraged even if sometimes being teased by her friends about her grade repeation. However, she never gets mad on her friend. She focuses on her study and always helps the teachers with any works and assignments so nicely".

Since her grandmother cannot work too hard, Ja often helps her with chores and works in order to earn money to support the family. One of the works Ja is helping is weaving the blanketed thatch to use for thatched roof. The employer will bring dry thatch and equipment to make blanketed thatch to her house. Ja and her grandmother have to weave it into blanketed thatch of the appropriate size. The employer will pay 7 baht for each. Every day after school, Ja will hurry home to weave the blanketed thatch. But she could only make only 1-2 pieces because she needs to spend time doing her homework and other household chores. During the weekends, she can make around 5-6 pieces. They both will have monthly income from the blanketed thatch weaving around 500-700 baht to use as the expenses for school and food for the whole month.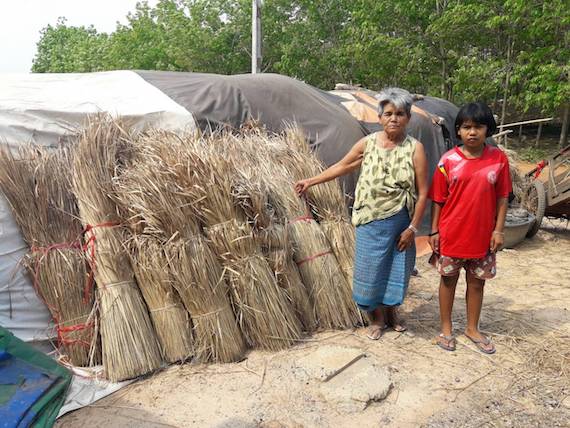 Ja and her 65-year-old grandmother and the thatch to be weaved into blanketed thatch.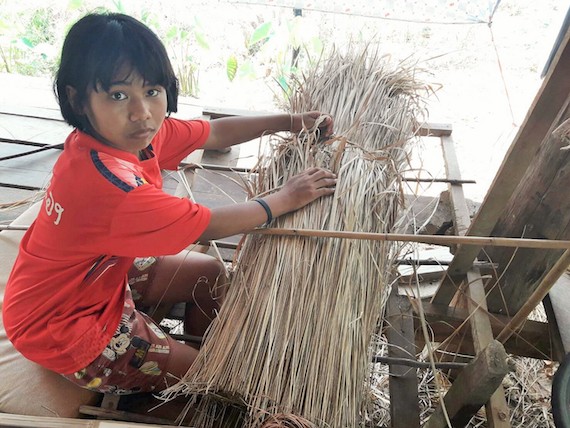 Ja helping her grandmother weave the blanketed thatch after school.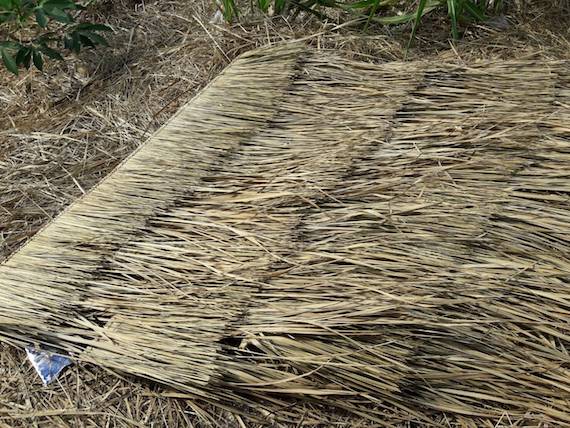 The blanketed thatch waiting to be purchased by the employer.

Even though she knew that she has already been granted a scholarship from EDF's sponsor, Ja was still working on as many part-time jobs as possible during the the recent school's summer holiday such as tapping rubber, dropping rubber acid and other menial jobs so that she can save money for her schooling and family expense.

Ja mentioned about the scholarship that she received taht, "Once we have been granted with a scholarship, we must keep on being persevering and diligent and we must not give up on any kinds of obstacle. Even though I am not so sharp, I will try my best for the sake of the opportunity I have received. And I will not disappoint my sponsor and my grandmother".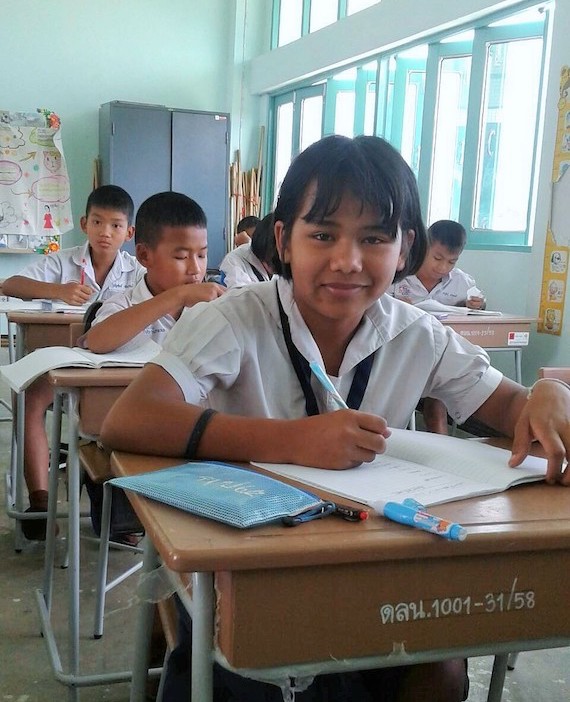 Ja studying with her friends in the classroom.

Today Ja's wish has come true with the aid from a kind sponsor through EDF scholarship program that provides her the opportunity to continue studying the lower secondary school (Grade 7-9) for 3 consecutive years from academic year 2017-2019. And this makes her dream of becoming a police officer coming closer to reality.