Greetings! My name is Supattra. I am studying in the primary school year 6 (grade 6). My family has 5 members which are my father, my mother, my grandmother, my elder brother and me. My family is poor. Our main job is doing rice farming. Once the harvest season is over, my father will go to work as a construction worker in another province. He will receive daily wage of 250-300 baht. He is the principal wage earner of the family because my mother has problem with her eyesight. One of her eyes sees things unclearly making her unable to work efficiently. And my grandmother is rather old. As for my brother, he also can work to help lightening up my father's load.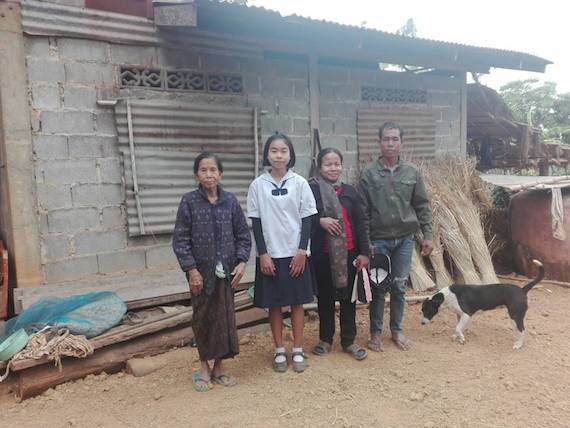 Supattra and her family (father, mother and grandmother) with the house she is living at present.

My brother could not even complete the junior secondary school level because he had to quit school to help my father doing rice farming. I feel sympathy for my father, my mother and my grandmother because my brother alone cannot help my father much. I, myself, have tried to lighten up his load. During my spare time, I will find a way to earn some income such as planting vegetables for sale at the market in the village, or occasionally being hired to plant, harvest and transport cassava. I know that it is a hard work and not quite suitable for a girl, but it is necessary. Sometimes I was very tired. Moreover, I will also work for occasional labor freelance jobs on whatever I can do when I have free time. Once I have some money, I will save it to use for my expenses at school. Even though it is not much, I feel quite proud to be able to help lightening up some of my father's load.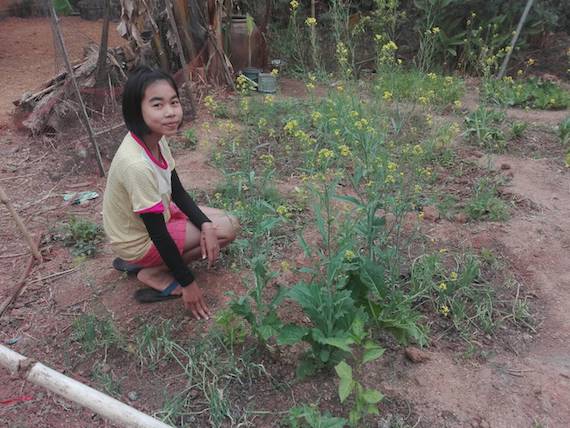 Supattra and the vegetable field planted by herself for sale at the market for extra income to go to school.

I believe that education is very important for me because I dream of being a nurse when I grow up. I think being a nurse will make me have a secured job resulting in having money to support my family to have a better life. Besides, I will be able to take care of my mother whose health is not so well and I will be able to take care of other patients as well. But before I can reach that point, I will have to study hard and there will be a lot of expenses involved. If I am sponsored by the scholarship, I will be ready to study as high as possible with earnestness and determination. I will use the poverty and difficulty of my family as my drive and main support to make me reach the goal of my dream.

I promise that if I have the scholarship from EDF, I will use every baht received wisely and sparingly, and make the most out of it for educational purpose and for the brighter future to come. Thus, I would like to ask for your kind consideration on my case. Thank you.