Supawita, aged 12, is a student of primary school year 6 (grade 6) from Nakhon Phanom Province. She is one of the applicants applying for EDF Scholarship of year 2018. She is currently living with her parents. She has 3 siblings. Her elder sister has been married and moved out to live with her family in Amphoe That Phanom. Her elder brother, even though looked normal on the outside, has mental retardation. And the last family member is Subtawee, the nephew who is studying in kindergarten in the same school.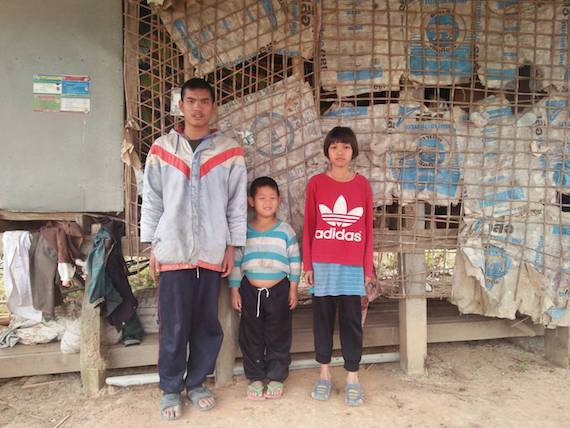 Supawita with her elder brother who has mental retardation and her nephew in their rickety house with the house wall being made of bamboo weaved with fertilizer bags.

Supawita's family is very poor. Her father and mother have unstable jobs. Her father will accept any labor freelance jobs such as construction worker or general labor jobs. His daily wage is just 300 baht. When there is no other job to do, he will stay home, plant vegetables and take care of the children. The income earned is usually less than the family expenses. Supawita's mother works as a maid working on cleaning in a restaurant. So her mother is another wage earner supporting the family.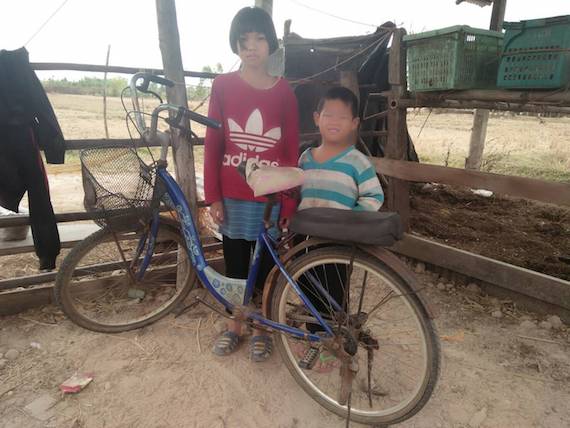 Supawita and her nephew will ride this old bicycle to school every day.

Supawita is a good student. She is diligent and modest. She is loved among teachers and friends. Every morning, she has to wake up at 6.00. Before going to school, she will help her mother cook, sweep the house, clean dishes and prepare food for her elder brother in order to ease off the burden of her mother. She will also take her nephew to a bath and dress him up. Usually, she will ride her old bicycle to school around 7.00 so that she can have free breakfast that the school provides for all students. But since the academic year 2017, the sponsor who supports the school free breakfast has changed the support to another part instead. Therefore, she needs to find more income for her breakfast by planting marigold for sale and also planting vegetables to eat in the family. As a result, there is a little surplus on selling marigold that she gets to save for her expenses at school.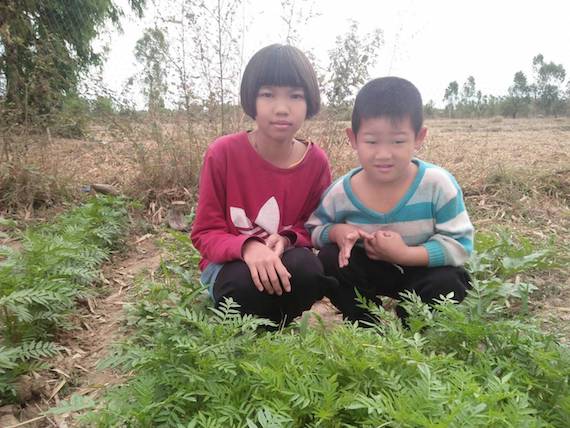 Supawita and the marigold field she planted for sale along with other vegetables to earn extra income.

Supawita has a dream to become a Thai cuisine chef. She loves cooking all kinds of food whether it is main dish or dessert. And she has extra attention to the activity hours of 'teach less, learn more of the school. During such hours, the teacher will teach the students to cook many kinds of food, main dish or dessert, by using ingredients from the school's agricultural field which the teacher assigns her to be in charge to take care of it. Additionally, she works very well on the Sweet Banana Crisps project and Salted Eggs project. She uses all the experiences learned from school to cook for the family to save money. And she highly hopes that she will be able to use such knowledge for her future occupation and earn more income to use on her higher education, especially in the undergraduate level in Home Economics that particularly teaches about cooking. Supawita tells her teacher that she has a dream of having her own restaurant. Her father and her mother also hope that she will be able to study on the higher education and they will provide their full support.