Student Name: Sukanya (Gogi), girl, 12 years
Class in 2018: Grade 6, Surin Province
Status: Applying for EDF Scholarship to continue Grade7
Currently living with: Parents and Grandparents
Parent's occupation: Garland Street Vendor

There are 7 people in Sukanya's family; grandfather, grandmother, father, mother, 14-year elder brother, son of her aunt aged 16 and herself. All of them live together in a small and old one-story cement house. Her grandparents are too old to earn for a living and have the health problem that need to see the doctor occasionally.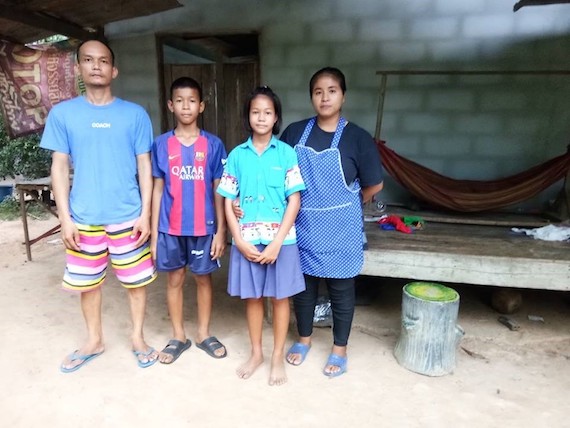 From Left to Right: Father, her 14-year elder brother, Sukanya and her mother
Sukanya's parents earn for a living as garland street vendors. Everyday, they have to buy flowers from the market to make the garlands for sale to car drivers caught by the traffic jam at the intersection. The income earned is just enough for living from hand to mouth in each day. Everyday, they have to face the risk from the car accident while strolling on the street to sell the garland. In someday, if the garlands could not be sold out, they will get the deficit because the fresh garland could not be kept overnight to resell tomorrow.

Sukanya's parents' burden is not only about looking after their 2 school-aged kids (Sukanya and her elder brother), but also another 16-year boy currently studying in Grade 10, who is son of Sukanya's aunt who moved to work in Banagkok and abandoned him with the Sukanya's family.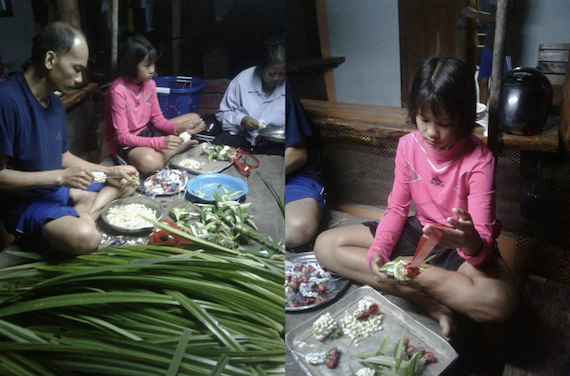 Sukanya while helping her family make garlands.
Sukanya and her elder brother help their parents selling the garland on the street on the weekends, but their parents would not want them to do so because they want their kids to concentrate on reviewing the school lesson and, importantly, they are aware of the risk from car accident that might happen to their kids.

When the income for selling the garland is not enough, their parents had to get the loan from the village's fund for family's cash flow such as spending for the kids' schooling and the medicine for the grandparents, etc.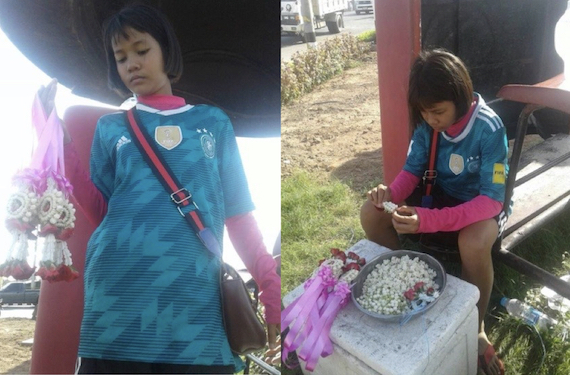 Sukanya always accompanies her parents for selling garlands in the traffic, but her parents prefer her to sit and help making garland at the footpath because of the safety reason.
Sukanya is a diligent and responsible girl. She is loved by all her friends and teachers and always helps school's activities such as cleaning school in the morning. She is also a school's volleyball team player. She strongly wishes to continue her study as high as she can and dreams to be a teacher someday to teach less fortunate kids just like her.

She said about EDF Scholarship that "EDF scholarship provides opportunity for those less fortunate to be able to study higher and relieve the burden of the student's family. The amount of the scholarship seems not much for some people, but for less fortunate kids, it is so precious and means the brighter future"

"If I am awarded with the scholarship, it would be helpful to lessen the financial burden of my parents in paying for necessary schooling expenses for me to continue on to M1 next year 2019"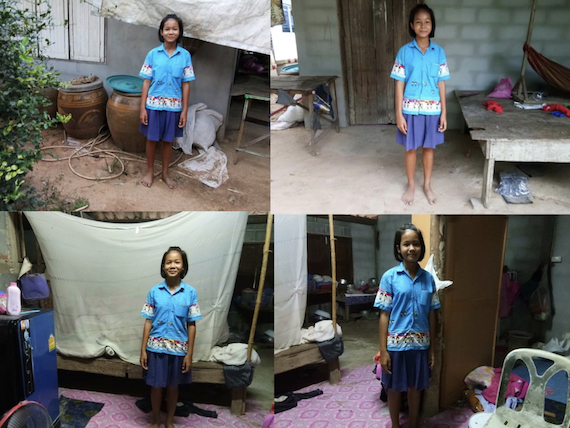 Inside the house where Sukanya is living with her family.