Sawasdee Krab (Greetings in Thai for boys), my name is Muntaqim, studying in grade 6 in Pattani province. I have one elder sibling studying in grade 8. I am now living with my grandparents. My father broke up with my mother when she was pregnant me. My father never come back again since then and I have never met him before. After that my mother remarried and move to work in another province with her new husband.

I have been living with my grandparents since I was a baby because my mother has to accompany her new husband to work as rubber tapping worker in Narathiwat province. My grandparents are farmers and feed livestocks. The income is not much just for enough for spending for our family expenses. Recently, my mother told me that her income is decreasing because the price of the rubber is very low.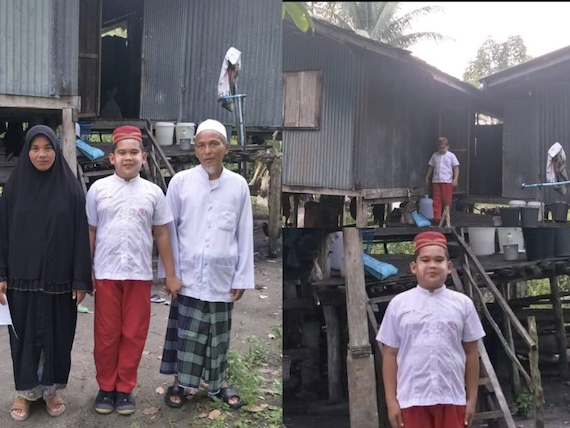 Muntaqim's father broke up with his mother before he was born, therefore, he has never had a chance to meet with his father before. His mother later remarried and moved to work in another province. He is now living with his grandparents in an old house built from the metal sheets.
My house was made of old wood and metal sheets and we always have problem when the heavy rains or strom come. I always help my grandparents doing chores such as wash the dises, clean the house, feed goats and poultry. When I am in school, I always attend school activities, help my teacher as assigned and of course, concentrate on what teachers teach in the classroom.
After school, Muntaqim always help his grandparents with chores,
feed goats and poultry to help lighten the burden of his elderly relatives

I dream to study in higher level and graduate very soon so that I can have a job, take a good care of my grandparents and help lighten the burden of my family. In my opinion, the scholarship is a great opportunity to help me and my friends to be able to study higher and also help lessen the financial burden of the family on the education expenses.

I would be so glad if I am granted with a scholarship. I will spend the scholarship fund wisely to benefit the most on my education. I want to say thank you for all kind people who give us the education support.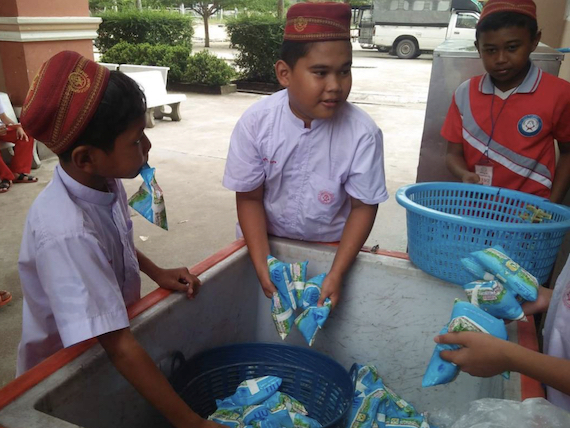 At school, Muntaqim is loved by his friends and teachers beacause he always helps with school activities (In the photo, he is handing out packs of milk to friends in school).