After dad passed away, mom contacted back and sent some money to the grandparents. However, we could not get in touch with her again anymore since then. The difficulties in our lives make both of us studying hard so that we could get a good job and afford enough money to take a good care of our grandparents.
The old wood house where Ponlasit and his sibling are living with the elderly grandparents.

We live together is a small old house made of wood. The roof is leaked and we always face the problem when the rain comes or in rainy season. Ponlasit or Nahm, 14 years, Grade 8 students from Khon Kaen province, told us about the destiny that his younger sibling (Sea, 13 years) and him had encountered since they were born until the present.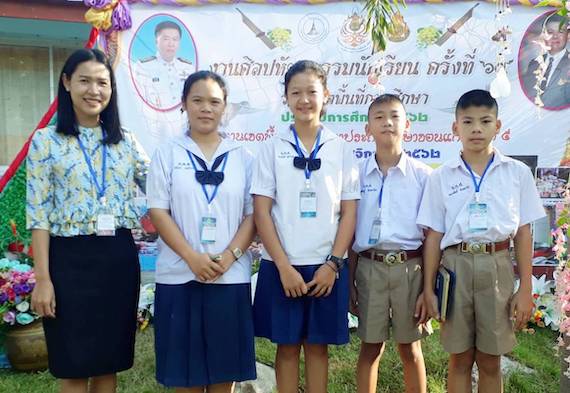 Ponlasit (2nd from right) and his yonger sibling (Right) when attending as school;s representatives in the provincial academic contest.
Ponlasit loves studying Math and English and was also nominated as school representative to attend many academic contest. Late last year, Ponlasit his younger sibling were also nominated as representative students from Khon Kaen province to attend the English Crossords Game Contest in Northeastern Region level held in Si Sa Ket province.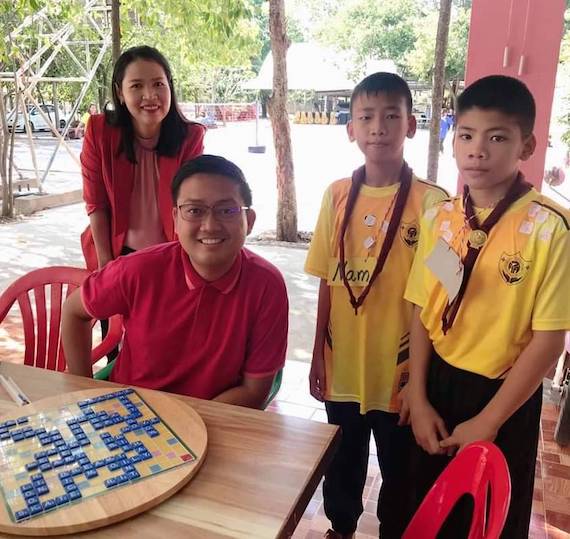 Ponlasit (2nd from right) and his yonger sibling (Right) with their teachers while preparing for the Crosswords Game Contest held in late last year 2019.
Ponlasit wishes to be an engineer in the future so that he cand get a well paid job to support his famil, He is trying his best in studying ao that he can continue the Science-Math program in high school and continue onto the faculty of Engineering in the university and that is the reason why he decided to apply for EDF scholarship in this school year 2020 to pursue his dream.