My parents were separated when I was a child. Now, there are four people in my family, comprising my grandfather, my mother, my elder sister and myself. My family is poor and does not have enough income to cover expenses. We used to live in a house owned by my grandfather. However, the creditor took the house away, as we did not have money to pay off the debt. My grandfather and mother are now moving to stay with their relatives while l am currently staying in a one-room rented dormotpry for 1,000 baht a month.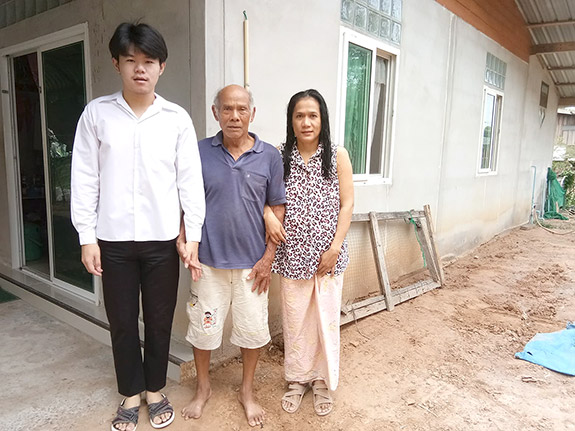 Nick with his grandfather and mother in front of the house that was already took away by the creditor.
My grandfather is very old and can no longer work as he was once crashed by car in an accident. His only income is from a 700-baht monthly elderly fund supported by the government.
My mom has health problem running for many years now. She is jobless, as her job applications were always rejected due to her unwell health condition. It has caused my family so many difficulties.

My dad was remarried and he is now a low paid menial worker tapping rubber in Nakhon Sri Thammarat province, south of Thailand. He occasionally sends us some money around 2,000 baht each time to help lessen the financial burden. This is not enough for all of us in the family to survive.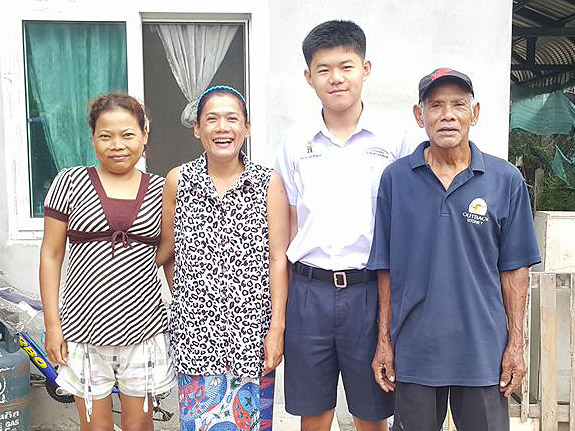 Nick and his family while he was in high school before his grandfather had an accident.
Things turned to worst when suffered from the stroke that caused paralyses. He undergoes physical therapy every day. It is helping, but he still cannot recover fully and so cannot work as normal, too.

Luckily, my elder sister, who has been studying very hard, got a scholarship from Toyota in dual vocational program (Work and Study) to study vocationa diploma and continue her study up to university level with employment opportunity in the company after graduation. She is now studying and staying in a dorm in Chachoengsao province, Central Thailand and going to graduate next year.

I was granted an EDF scholarship once when I was in Grade 11 in 2017, which helped lessen the financial burden of my family on my education at that time.

As I recall, I was facing a critical possibility I might be able to continue studying in Grade 11 because my mom did not have the money to pay some education fees and expenses.

Even though I only got a year support from my donor in Grade 11, I can say the scholarship saved my life. Without the scholarship support on that day, I could have not completed high school and continue to the university at present.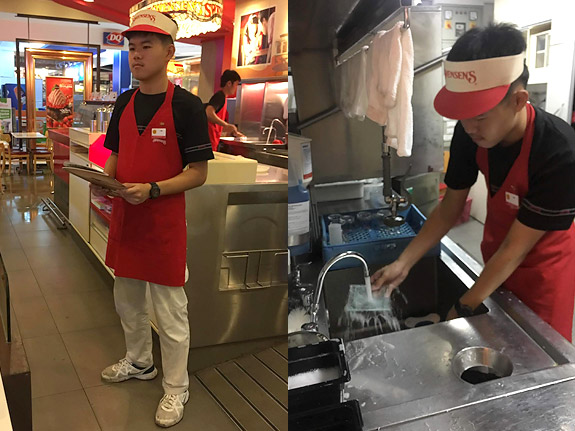 Nick has worked part time at the icecream shop since he was in high school until now to help earn income to support his family and for his own education expenses.

When I finished Grade 12, I passed an examination to enter the university. I took as many part time jobs as possible to support my own education in university level. I save money diligently and spend it wisely for my education, and I don't engage in bad behaviour. My focused is on completing my education and be able to help my family.

From studying in high school until now that I am studying in university, my weekends has been spent working. I work part time as a serving staff at Swensen's ice cream shop at Robinson Department Store and earn 41 baht per hour. I give all the income to my mom for family expenses and for my education expenses.

After completing the university, I wish to work as a government officer because of the job security that comes with it, or find a good paying job in a company, which benefit the whole family.

Finally, and yet, importantly, I would like to thank my EDF scholarship sponsor in 2017. You did save me at the worst time of my school life. Without your support on that day, my education future would have stopped and I would not be able to pursue my dream of studying in university level as today.

I can say that EDF scholarship is truly a significant support for students from poor families. It seems so little for those who have money, but it is huge and precious for someone like me, who comes from a family struggling daily just to survive.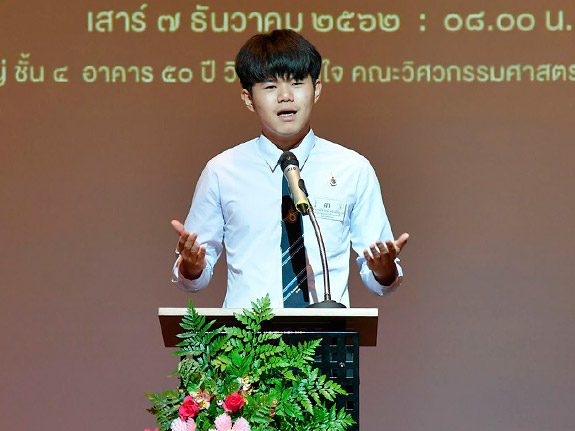 Nick was nominated by the university to attend the speech competition in Thai and English in 2019.

I would like to tell junior scholarship recipients that even though you, just like me, were born less fortunate and poor, you should not devalue yourselves. Instead, you need to try harder or double your effort, especially on education. Education is the key to help unlock the window of opportunities for those living in hardship. Take strength from your less fortunate life to drive your dreams.

Remark: Nachawat has an outstanding academic performance while studying in university even though he has to work and study at the same time to support his own education (His current GPA in Academic Year 2019 was 3.83). He is always nominated as university representative to speech competitions in both English and Thai.