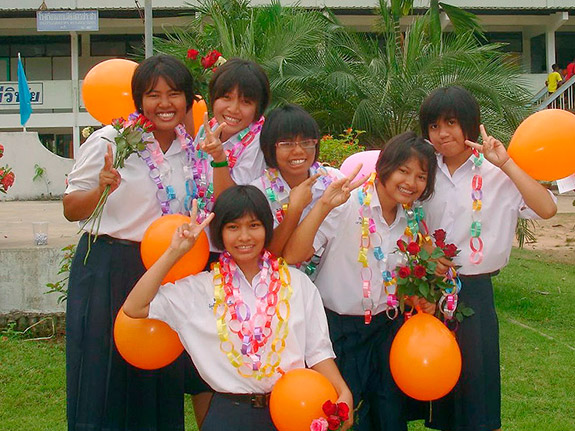 Teacher Nittaya and her friends while studying at
Tenmi Mitpracha School, Surin province.
EDF scholarship and education changed my life.
During my childhood, my brother and I lived with our grandparents because my parents had to work in another province. I had to learn how to help myself and my family at a young age. My grandfather was a farmer while my grandmother sold vegetables and fruits at Surin fresh market. After school and on weekends, I helped grandfather at the rice field or helped grandma buy things for sale at the market.
When I was in Grade 6, my grandparents passed away, so my parents returned home to find work in Surin. Unfortunately, family problems caused my parents to get divorced. Both of them remarried and moved out from our house to live with their new families. I was left to live with my elder brother. We had to take care of ourselves. However, my mother still sent us some money on a monthly basis.
When my brother graduated from secondary school, he decided to work with our mother in Lopburi province. At that time, I was in Mattayom Sueksa 2 (Grade 8) at Tenmee Mitpracha School and had to live alone. It was only during school breaks that I got to travel and temporarily stayed with my mother and worked part-time to earn extra money. That was my routine until I graduated from high school.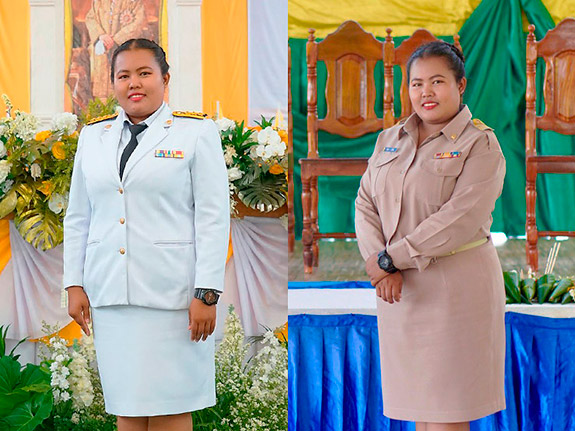 Teacher Nittaya on a successful day was enlisted in the government service
in 2016, bringing pride to herself and her family.
My life was tough, especially during my junior high school year. At that time, I had wanted to stop going to school. Luckily, I received help from teachers and the EDF Foundation, which provided scholarship funds and school supplies that came in a large box from EDF donor. I can still remember the box included a notebook with a white cover with an image of a mermaid printed on it. There was a lot of stationery supplies so I shared it with some of my friends. I also received Thai and English dictionaries, and many more.
I spent the scholarship funds for my daily living and schooling. I noted down all spending details to make sure that I had spent it wisely. The support greatly helped lighten the burden of educational expenses. The support from EDF donor helped and encouraged me to fight for my dreams of a better life and graduate from high school.
I am very thankful to my advisory teacher at that time, Teacher Phimonphan Sorabutr, who had always provided me with a good advice. I was lucky to meet such a caring teacher who truly loved and cared about her students and never got tired looking for scholarship support from various sources to help her poor students.
After graduating from Mattayom Sueksa 6 (Grade 12) from Tenmee Mitpracha School, Surin province, I continued my education at Surin Rajabhat University, majoring in teaching profession because I wanted to have a good job so I could take care of my parents as best as possible. I put all my effort into completing my Bachelor's degree. I had to work part time during semester breaks to support my education, such as cleaning at department stores, working at factory, selling things and doing other odd jobs.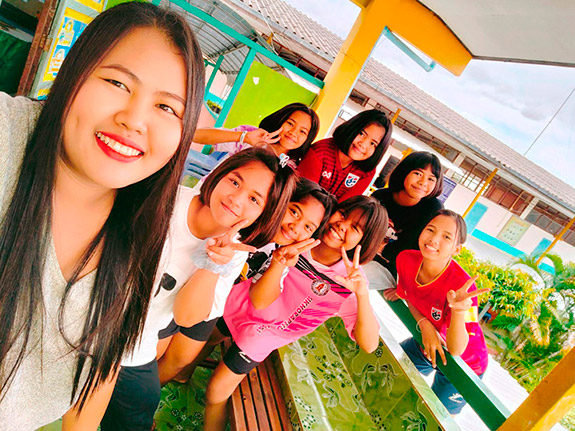 Warm atmosphere and friendly of
Teacher
Nittaya and students
at Ban Chan Rom School, Surin Province.
I am proud to have completed a bachelor's degree (5-year teacher's college degree majoring in English) with a GPA of 3.50. After graduation, I was immediately recruited to work as teaching assistant taking care of children with disabilities at Ban Khok Prasat School, Surin province.
By the time I was preparing for the government school teacher examination, additional pressure came up as my parents' health deteriorated. My mother underwent breast cancer surgery and my father underwent kidney stone surgery. I would say that those trying moments inspired me to pass the teacher examination. I got my first government school posting in the beginning of 2016. It was a big step for a successful life.
Just after a year teaching at a government school I had already saved enough money to afford a small house for my parents, who reunited but no longer as husband and wife. My elder brother joined in later and so we are back as one happy family. I am happy and proud of myself as I am able to make my dreams come true and bring back our family together.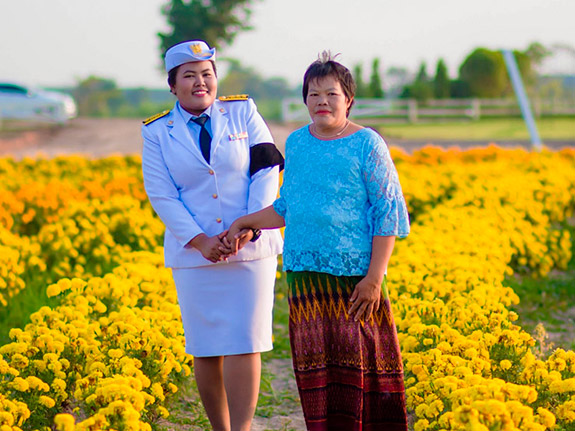 Teacher
Nittaya
and her mother on the day back together again, their are
overjoyed and proud that they may finally make their dreams come true.
Looking back, I can say without any doubt that I could not have overcome the obstacles into attaining a better life for myself and my family today had it not for the help and support of EDF scholarship and my teachers
I would like to thank the
EDF Foundation
and donor for providing me scholarship and other educational support.
Their aid came just in time to help a 14-year-old girl who, at that time, was so unsure about almost everything.
I probably won't be able to pay back my donor in money, but they can rest assured I will give back what they have given me by becoming a good and caring teacher to students. Thank you.
EDF scholarship truly works. It helps students in need get access to education and a chance for a better life.
I was once in the same tough situation as many EDF scholars are now, so if you are currently receiving EDF scholarship try your best to make the best of it.
Be thankful and grateful to EDF and your donors. What better ways to show it than by making every single baht count. By being diligent in your study, being kind and a role model.