Today, we wanted to introduce another side of the family of "Nong Pi" or Piyachat Nonthawan, 12 year-old girl studying in grade 6th at Baan Ku Duea School, living with her grandfather and grandmother and 2 little sisters at Baan Ku Duea, Jae-ramae Sub-district, Ubonratchathani Province. Baan Ku duea is one of the places in Northeastern area affected by the flood but wasn't much focused by new media. The effect from the flood aggravated those 5 lives to be more in trouble.

Nong Pi's parents were separated many years ago, leaving her and the two sisters with grandfather and grandmother. Her parents have never come back to her since then. Grandfather and grandmother then have to raise their 3 grandchildren and support their education. Their home is only a small cottage located on public land, made of the combination of weed flora, pieces of galvanized iron and old ply wood. There is no television at her home but only a transistor battery radio to allow them to receive news.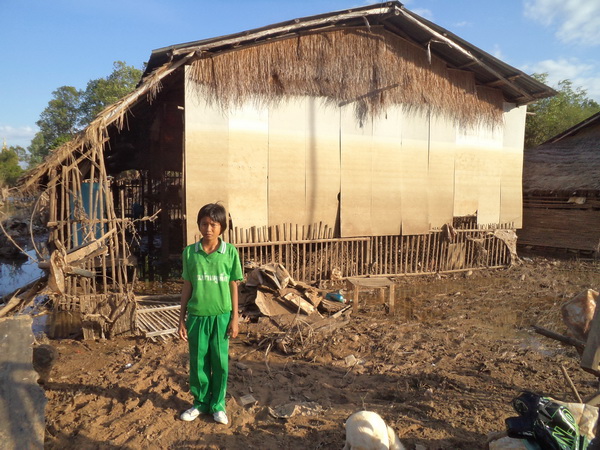 Piyachat Nonthawan and her home whre has been surrounded with flood.
 

Nong Pi's home is located at the area called "Ku Duea Beach", which is an island surrounded with Moon River, one of the tourist attractions along with the river in Ubonratchathani Province. Nong Pi's grandmother carries local fruits every day for selling to tourists and makes profit about 100-150 Baht per day, depending on the number of tourist. If there is fruit left in a day, she will suffer a loss for that day. Nong Pi's grandfather, about 60 years old, is a labourer and receives an allowance for the elderly 500 Baht per month. Nong Pi works on weekends as a waitress in a restaurant for tourists, earning around 70-100 Baht a day. Nong Pi gives her money to her grandmother for home expenses and her grandmother gives Nong Pi and her sisters a pocket money in aggregate of 10-20 Baht per day before going to school.

From 1 September 2011, the water level from Moon River has raised and flown into Ku Duea Beach and community area nearby, including Baan Ku Duea School i.e., Nong Pi's school, causing Nong Pi and her grandmother to lack their earnings because no tourist has come to visit and restaurants have been flooded. Nong Pi's home has been totally surrounded by water causing her and her family hard to go out or back home.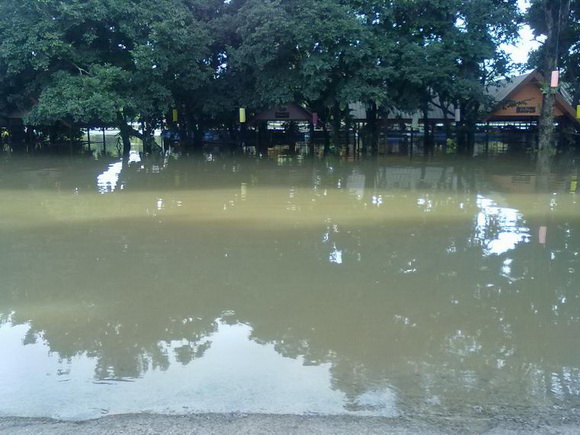 Ku Deu Beach and food shops, where Nong Pi and her grandmother earn for a living, was totally flooded
 

We went to visit Nong Pi during the mid of November 2011. Although the flood level around her home decreased, the area around Ku Duea Beach was still flooded, causing Nong Pi and her family losing their earning for a full 3 months. Grandmother had to use her saving which is not much to sustain the family during their non-earning time which was used up only just a few weeks after the flood. Nowadays, such 5 people survive their lives by the aid bags distributed seldom by governmental agency.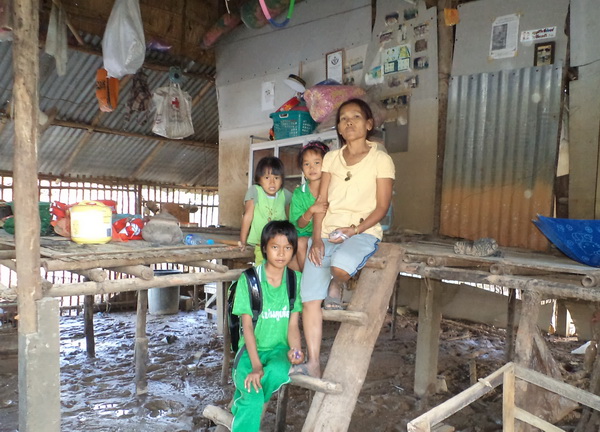 Nong Pi and her grandmother with 2 little sisters
 

Nong Pi told us that "I wish the flood level decreases quickly so I can go to school and work again. I feel sorry for my grandfather and grandmother who wade through the water to feed me and my sisters. We don't have a boat. It's hard to travel during a flood crisis. They need to be careful of sneaks or centipedes".

"I don't know when the water level decreases. If it does so, I don't know if everything will be back to normal. It might take time to have the restaurants and tourists back to normal. I'm only worried about my grandchildren. If we don't have money, they won't have anything to eat and they can't go to school. Grandfather is not quite healthy. We don't also have our own land. Our home now is located on government's property" Nong Pi's grandmother spoke with tear-filled eyes to us.

Nong Pi's teacher added that "Nong Pi is not only grateful but is a student president with a very good grade and behavior. She is entrusted by the school to manage many school's activities and represent the school to provide welcome and thank you speech to our gusts regularly. "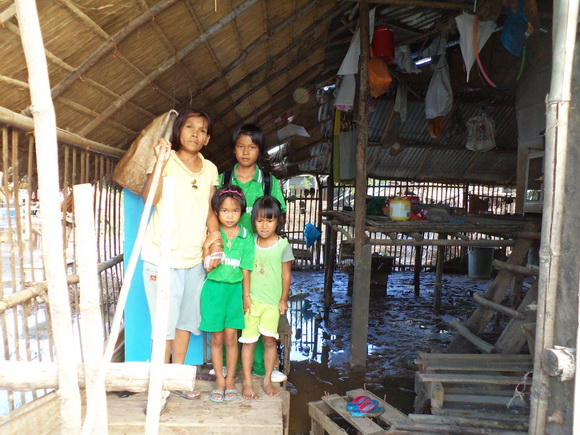 Nong Pi and her grandmother with 2 little sisters
 

Nong Pi is one of the students applying for scholarship from EDF under secondary education level for 2012 academic year. From EDF's survey, there are about a thousand students who live in the flooded area in Northeastern part of Thailand such as Roi Et, Kalasin, Buri Rum, Maha Sarakam, Nong Kai and Surin etc., applying for the scholarship. Besides having direct effect from the flood in their areas, many more kids encounter indirect effect from the flood as their parents, who worked as a labour in Bangkok or the provinces in central area affected from the flood, lose their jobs. These kids are encountering the risk of being out of educational system and to get into a labour market instead because their poor parents lack earnings or lose their jobs and they need the support from their children in order to sustain their families after the flood crisis.

You can change those children's future via EDF's scholarship program to help them returning to schools for this coming semester in 2012. Currently, it is likely that there are more than 8,500 qualified applications for the scholarship.