She had a feeling it was the same because the event was similar to the one she attended many years ago. If it was the same, she wanted to take the opportunity to thank the donor of her scholarship. She asked EDF staff and found out that it was the same program, but that her donor had passed away 10 years ago. That news brought tears to her. EDF had the opportunity to talk to Saowanee that day. We would like to share the conversation with everybody.
EDF: Could you please tell us about your current work?
Saowanee: I am 35 years old. I graduated with a bachelor's degree from Rachaphat, Suansunantha, in Year 2000. I've been a math teacher at Sang Arun school for 12 years. Currently, I am the chair for the Math club at our school.

E

DF: What was it like when you were a student before you got to college?
Saowanee: I I was originally from Nongsonghong in Khon Khan. When I was in middle school, it was very difficult. I lived with my grandmother, my parents, a sister, and a brother. The main income came from my father only. He was a tailor and a rice farmer. My mother was his assistant. Our family was poor but it was warm and loving. My parents worked hard. There were many students at Nongsonghong school at the time. One of the rules that the school had was that, for the middle school students with GPA 3.50 and up and the high school students with GPA 3.00 and up, students didn't have to pay the tuition. Since we were very poor, I told myself to keep my grades up at that level so I didn't have to pay the tuition. I was able to do that from M1 to M. 6 (middle school to the high school). It was a big relief for my family to not have to pay for my education. My father sewed the student uniforms for all of us. I was awarded the EDF scholarship so I used the money to buy stationary, books, and other expenses related to my studies. I had to work at a bookstore before and after school and on the weekends to try to make some money to pay for other expenses. I sometimes cleaned people's house or did laundry. I tried to work whenever I could. I remember thinking that I wish there were 48 hours in a day so I could work more. I was very tired but I had to endure the difficulties because I wanted to help my parents and my family out.



EDF: How did you feel when you were awarded EDF scholarship in the middle school?
Saowanee: I was very happy. I remember they called the scholarship "Darunee scholarship" at my school. Some people might think that the amount of money is so little but for a poor family with limited options like my family, the scholarship was very precious. I was very proud and glad that I could help relieve the burden on my family from the cost of my education.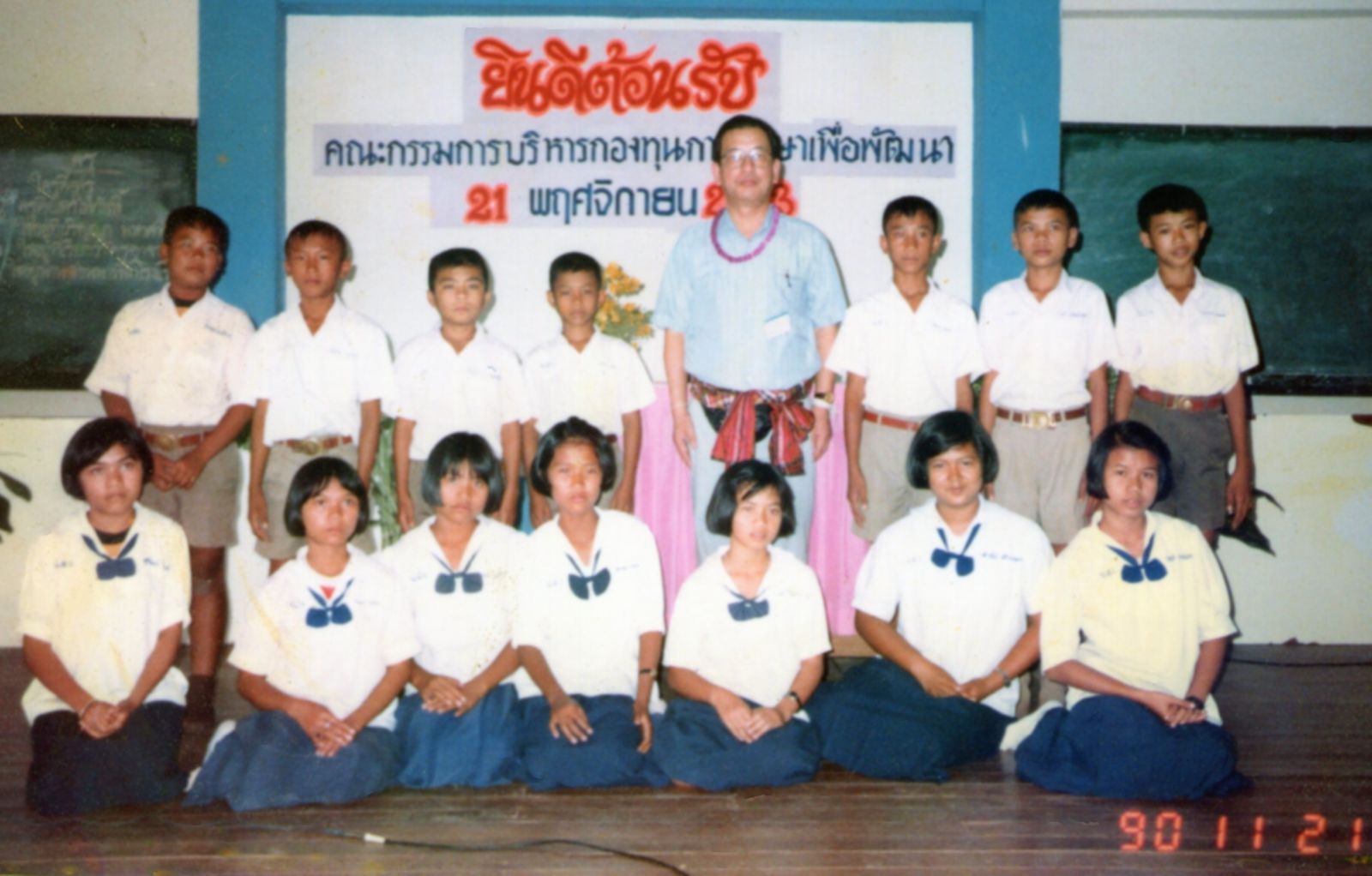 A photo of Saowanee taken with other EDF Scholarship students at Nongsonghong School, Khon Kaen province in 1990
EDF: When you were the recipient, did you have any opportunity to write or meet with the donor?
Saowanee: The donor came to visit me at my school when I was in M. 2 (second year in the middle school). I remember that I was very happy and excited. I even wrote down what I was going to say when I met her. But when the time came, I was so excited that I forgot everything. She was very kind. I remember the kindness in her eyes until today. After the meeting, I wrote to her occasionally. She also wrote to me and sent me some gifts. I was very happy. I kept all her presents. I locked them up in a cabinet. I didn't want to use any because I didn't want to ruin them. She sometimes sent a postcard or pictures of her family.



EDF: Please tell us about your life in college.
Saowanee: After I graduated from the high school, I passed the university entrance exams and was able to get into many universities but the costs of going to those universities were too much. My father was willing to support me but I gave up. I thought it would have been too much for my family to support me. I then decided to take an entrance exam to Rachaphat, Suansununtha, in Bangkok because I had always dreamed of being a teacher since I were young. When my father found out, he was very angry. He didn't tell me when the school mailed the acceptance letter to our house. I found out because my mother told me. I decided to go to Bangkok to study. The first couple months were very difficult. My family sent me 2,000 Baht a month. 1,000 Baht went to the rent, the rest was for all other expenses. There's always some light even in the dark, so after a couple months, my teacher recruited some students for me to teach. I was a math tutor. I was very happy. I taught 2 hours a day. I made 150 Baht per hour. I also taught on the weekend. It was good income. I told my family not to send me any more money. I was the one who sent the money to them every month instead. I graduated from college by working and supporting myself.



"Looking back, I've always surprised of how a poor student from rural area like me has come this far. How have I arrived to this point in my life? The truth is I am not a smart person but I think I am lucky to get support and opportunity from the kind people…" To be given an opportunity is very important. If I hadn't been given the opportunity in the past, I wouldn't have arrived this point.
When I teach my students and when my students make mistakes, I would always ask them if they want an opportunity to correct their mistakes. No matter the mistake is big or small or in whatever area, I will always give them that opportunity. I've had the opportunity to make it to today. I want to pay it forward.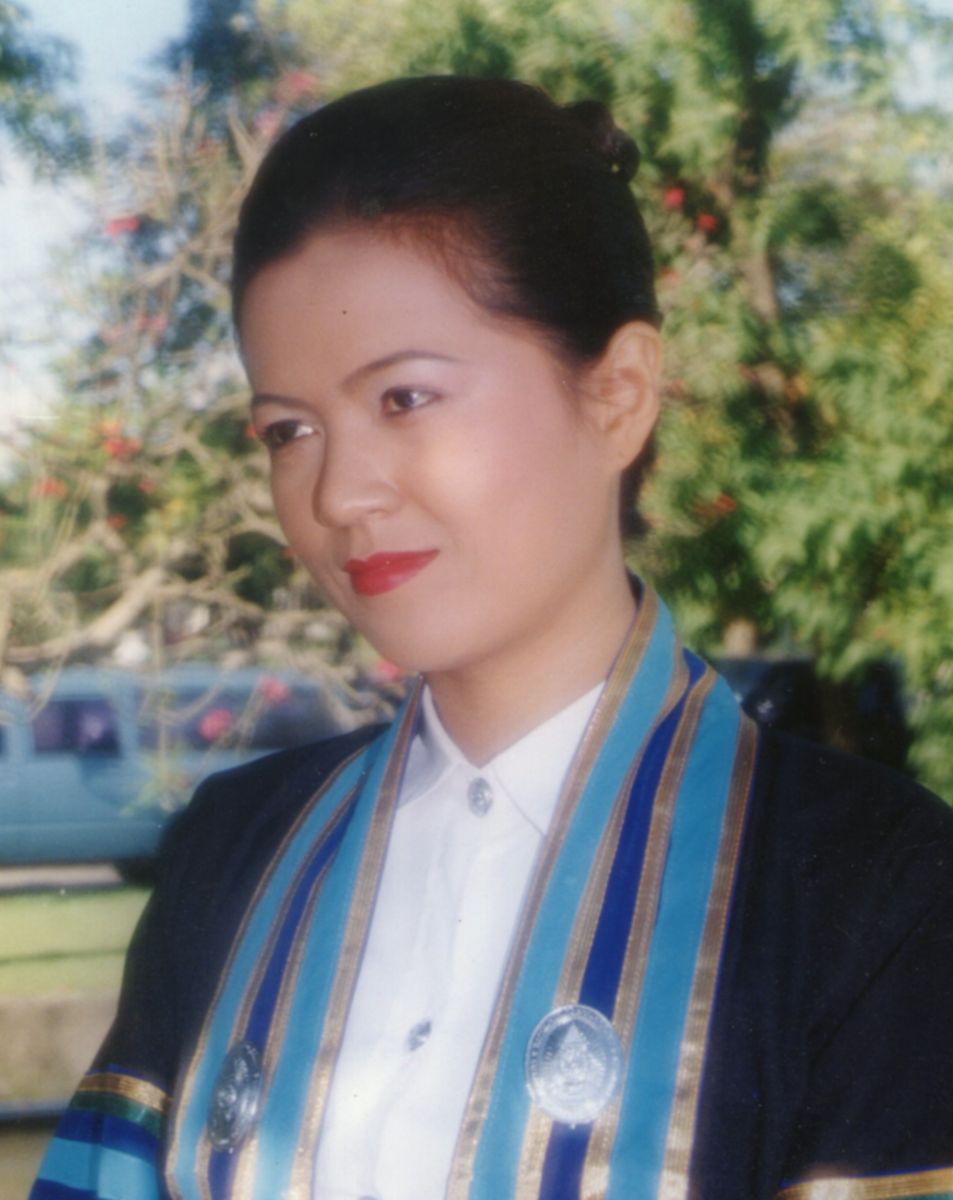 Saowanee's graduation photo in Year 2000
EDF: Why have you decided to be a teacher?
Saowanee: I wanted to be a teacher since I was young. I am here today because of the opportunity that my teachers have given to me. I was lucky to have good teachers throughout my schooling. When I was in fourth grade, my teacher taught math to me after school every day for free. She took me to a math competition. Since then I have liked math and dreamed that I would be a good teacher like her some day. In summary, I decided to be a teacher because I had the commitment and the dream since I was young.


EDF: How do you feel now that you've been a teacher for 12 years?

Saowanee: "Teaching can be very tiring profession. However, after you see the fruit of your efforts, you no longer feel tired. When your students succeed, it is very rewarding.
The only problem that I have seen in my 12 years is that the kids nowadays aren't paying attention in school like in my generation. I feel sorry for the kids nowadays because there are so many things that lure them to a negative path. "Children nowadays can not be smart only in the classroom. They also have to be smart and win over the other bad stuff." Being a teacher, you have to be able to be on top of them so you can give them advice and support.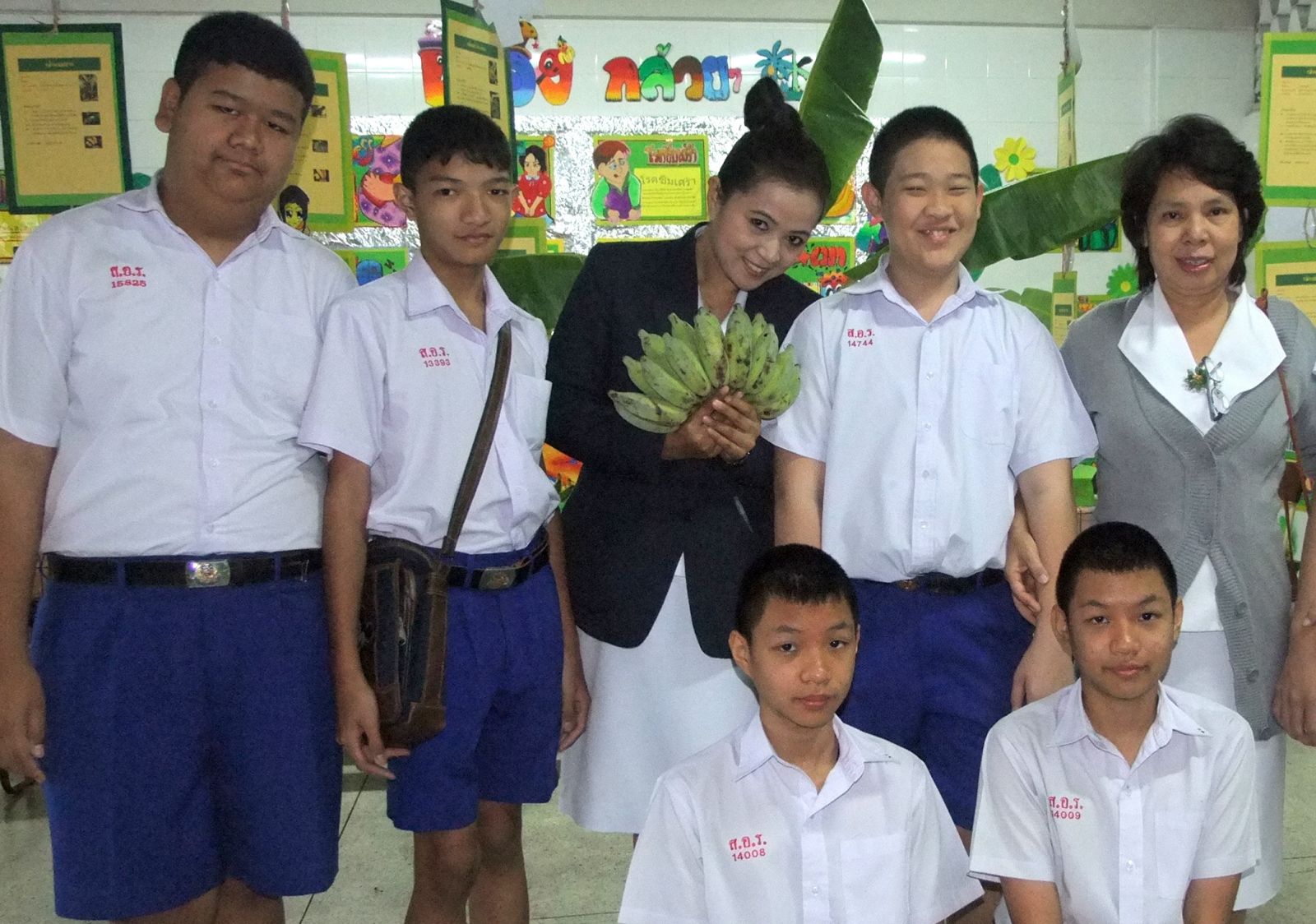 Saowanee in her present role as a teacher at Sang Arun School, Thonburi, Bangkok
EDF: How have you made it to this point of your life?
Saowanee: For a financially-challenged student like myself, there are many factors that have contributed to my success up until this point. The first one is the most important one which is parents. Because I loved my parents, I was motivated to work hard and to improve our lives. I wanted to take care of them. I wanted them to be comfortable. Because I've always felt grateful toward them, it's like an armor that protected me from harm. The second one was "the opportunity". Some people are very capable and hard working but because they have never been given an opportunity and support, it is difficult to be successful. Sometimes, I think why I have a hard life. I sometimes feel tired and discouraged. But believe it or not, every time when I almost give up, there is always someone who is willing to give me a hand. I might not have met the person before. I think I am lucky to get the opportunity like that many times when I face some problems.
The third one was "commitment". Like I've said, I loved and respected my teachers a lot. It was my commitment early on to be a teacher in order to pay it forward.


EDF: Do you have any thing to tell the EDF donors or the scholarship recipients?

Saowanee: I would like to tell the donors that your generosity can change the world of the financial-challenged students a lot. It gives them an opportunity that they do not have. I would like to take this opportunity to thank every donor from the bottom of my heart. I promise that I will be part of the force to get kids the opportunity that I have had. I will teach them to be good citizens and improve our society.

For the scholarship recipients, I hope that you will cherish this golden opportunity and make the best of it. I hope that you will study hard. Don't think that you're worthless because you're born poor. I think we are lucky to be born like this because it makes us stronger. We can handle difficulties in life. It's like we're born with this immunity. If you think good and do good, good things will happen.