But she never felt inferior and gave up any obstacles she has been facing. On the contrary, it made her to be more persevering and focusing on study until she could achieve the 1st place in class and got GPA of 4.00 in every academic year since grade 1 - 6. Pat also had academic capability to attend and win the prizes in various academic competitions that helped promoting school's reputation. Her homeroom teacher then decided to submit her application for EDF Scholarship so that she could get an opportunity for her brighter
education
future and pursue her dream of being a teacher.

Pat explained about the reason why she want to be a teacher that "When I grow up, I wish to become a teacher in order to teach children in the remote area such as myself so that they will have good knowledge and good opportunity in life like other children in urban areas."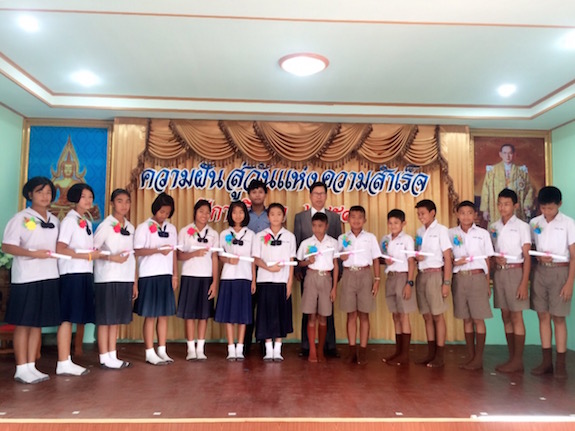 Pat with her homeroom teacher and friends at Ban Than Prik School on the 6th Grade Graduation Day in the previous school year 2015.

Today, Pat who just turns 12, become one among 10,615 lucky students who received scholarships from EDF in this school year 2016 . After she finished grade 6, she was able to pass the entrance examination with the 2nd rank highest score to enroll grade 7 in lower secondary level at Nakorn Bang Yang Wittayakom School, Phitsanulok province. In addition to the scholarship fund, her sponsor also provides extra funding support for her monthly transportation to school and meals at school.

Pat expressed her feeling that "I feel very thankful to my sponsor for being so benevolent to me as if I were his niece. I am now having a chance to attend new school, meet new friends and teachers. I will try my best for everybody that I love. I will use the scholarship fund for my schooling. I will absolutely not use it for wasteful spending. I will focus on my study for my future that is still a long way ahead, but I will try my best to reach it. In our lives, we have to step forward, not step backward. "To graduate and have a job" is my goal."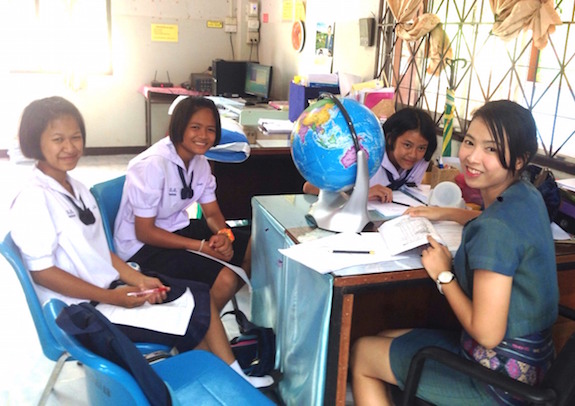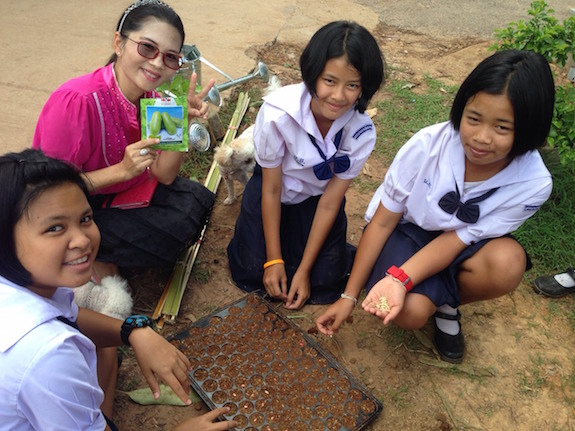 Pat with her 7th grade friends and teachers while doing school activities at Nakorn Bang Yang Wittayakom School, Phitsanulok province.

After granted with scholarship, Pat is still helping her mother work at the temple on weekends and take care of her sister and do house hold chores after school time. At school, she joins the English Club to practice her English skill until she is able to write to her sponsor in English. Furthermore, she won the first prize in ASEAN QUIZ Academic Contest and was able to pass the selection to attend the Academic Competition in National level in Bangkok.

Pat told us about her life goal that "My life goal is first to get high school certificate. Then I am going enter the university to study in the faculty of education in order to become a teacher so that I can be a good role model for the students and give back to the society and the nation as much as I can.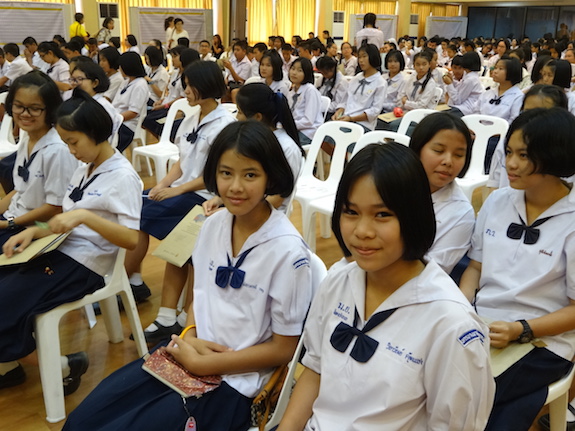 Pat with her teacher and friend while attending the National Academic Competition in Bangkok on August 20, 2016