My father has abandoned my mother and me since I was in pre school. My mother, therefore, becomes an only breadwinner of our family. She works as a cleaning maid in Nakornratchasima Rajabhat University and get paid 2,000 Baht twice a month on the 10th day and 30thday. She has to work 7 days a week with no holiday to earn as much as money to support education of me and my elder sibling.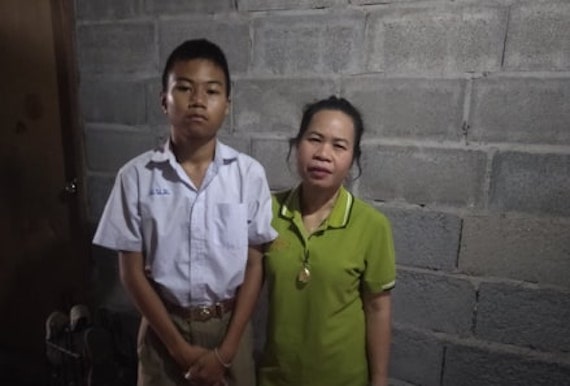 Pooh and his mother who works as a low paying maid and has to bring up 2 of her school-age kids alone
Our major family expenses are; my elder sibling's and my education, food, bills, transportation for all of us to go to school and go to work and of course, my mother's wage could not cover all the expenses. Therefore, my mother sometimes needs to borrow money from her colleagues or the others especially during the new opening of school semester in May and November.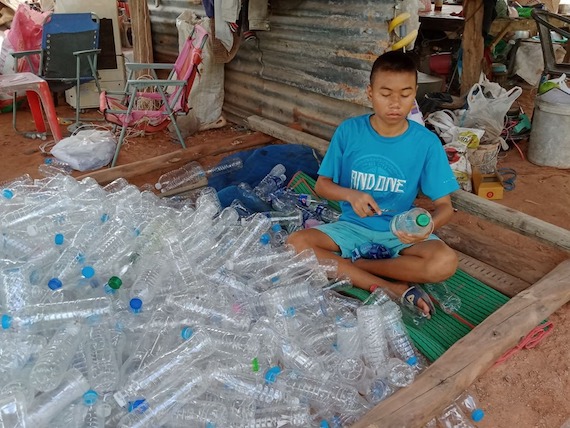 Besides helping his mother with chores, Pooh also work part time to collect and sell used bottles to earn his own pocket moeney to go to school.
I always help my mother with all household chores to lessen her burden because she gets home late at night from working hard everyday and need a rest. I also work part time to collect and sell scraps and used plastic bottles to earn 40-50 baht/time and use it as my pocket money to go to school in each day. This is the way I can help lessen the financial burden of my mother. I wish to get a scholarship not only to lighten the burden of my mother on my schooling, but I do not want her to be so much worried about our education future. She always feels very sad and sympathy when she has no money to give us to go to school.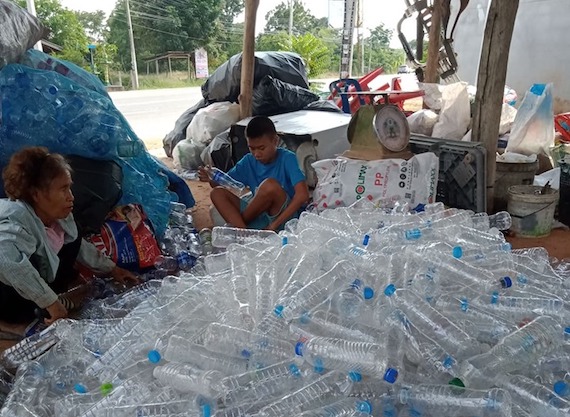 Pooh while working on classifying different types the used plastic bottles
If I could get a scholarship, I will use it for my schooling expenses and make best use of it for my education. I will also save some for my future education. I love studying computer and dream to be a programmer so that I can earn enough money to support my family. If possible, I wish to continue on to upper secondary school or continue onto the military academy. I promise to be a good boy and be diligent on my study.