For elementary school students, it may be more difficult because parents were required to study together with their child or children.
The problems are, in addition to unstable internet signal, some families do not have enough equipment for online learning. For example, there are three children in a family but there is only one mobile phone. They let the eldest one use a mobile phone to study, while the rest of younger siblings had no choice but to study with their classmates who live nearby despite the concern about social distancing. In addition, some families with elderly parents are unable to study with their children. As a remedy, the school asked senior students who live nearby to tutor junior students instead.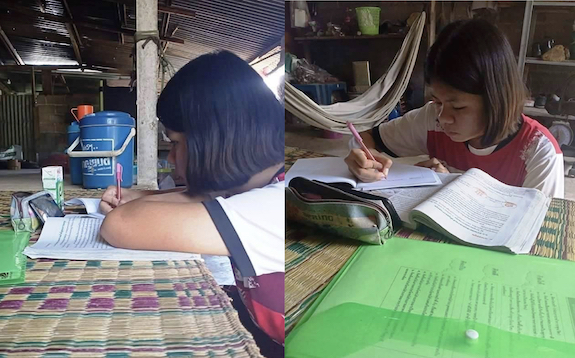 Pattaratida, 14, EDF scholarship student, Grade 8, Ban None Sawang school, Amnat Charoen Province while studying online from home.
Besides teaching, teachers have to play an important role in raising awareness on issues and problems that can affect online teaching and learning. It is hoped that everyone can work together to come up with better solutions for problems affecting online teaching and learning.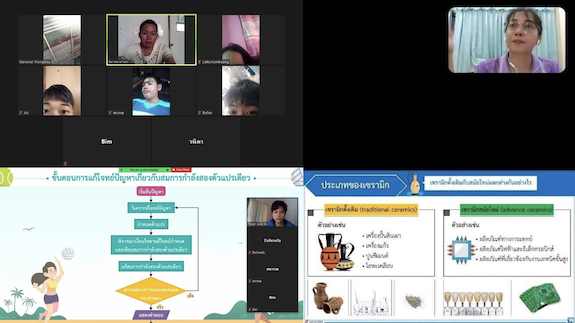 Screen shots of Online Learning class from
Ban None Sawang school, Amnatcharoen Province
In addition to online learning, schools also offer classes called "On Hand" for students who do not have the gadgets to learn online or learning through the internet. In this case, teachers prepared worksheet and various exercises papers that were easy to understand and included manuals to guide students and parents on what to do while studying at home. The teachers may deliver papers to their students at home or asked parents come to pick them up at school. Elementary school students who are too young to attend online classes mostly use on hand learning method.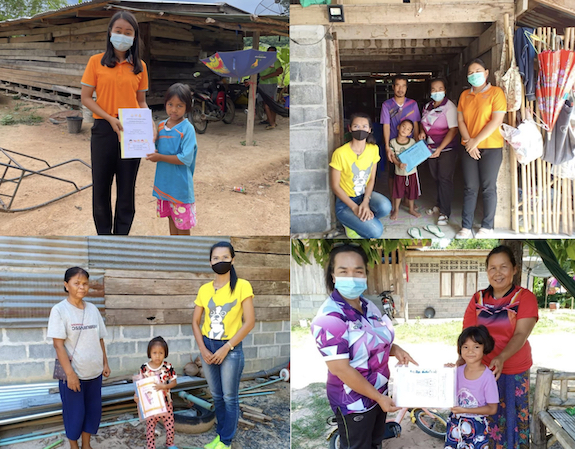 Teachers at Ban Charas School, Bua Chet District, Surin Province, visited and handed worksheets and exercises to primary school students whose families did not have a smartphone.
Another common problem is that many parents do not understand the subject matter themselves, so they frequently call the teachers for further advice or find someone in the community who can help them.