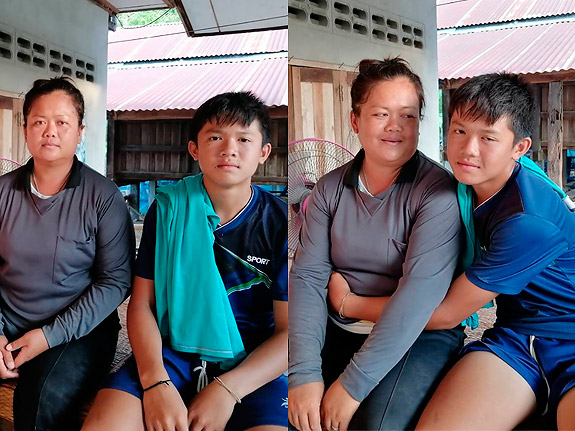 Nong Ai Un and her mother were laid off as a result of
the COVID-19 epidemic and had to return home
My mother is doing everything she can for our family. She works in the farm, raising cows and does odd jobs. She earns about 1,500 baht per month. Unfortunately, she can rarely find work opportunities due to Covid-19 situation. My mother tries very hard to save some money for my educational expenses. She has been worried that she would not have enough money to send me to continue my studies. I feel very sorry for my mother because she gets tired from working. I always help my mother, such as cutting grass for cows to eat, mow the grass, grow cassava, cook rice, cook and wash dishes.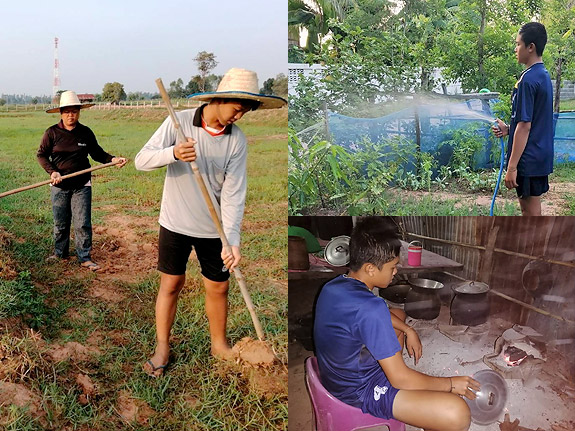 Nong Ai Un helps her mother by doing whatever work that could lighten
her burden, including household chores and other paying work.
I and my mom are very happy when the teacher told me that I was granted a scholarship by the EDF Foundation for my education for three consecutive years until Grade 9 or Mattayom Sueksa 3. The scholarship will help a lot ease the burden on my mother. I would like to thank the donors for their kindness to me and my family. I will spend the scholarship fund to benefit my studies as much as possible. This year I am in Grade 7 or Mattayom Sueksa 1 and was chosen by my classmates as class leader. I like studying science and have dreamt to be a soldier. Although my educational level is average I am not stubborn and unruly. I study hard and follow the teachers' advice.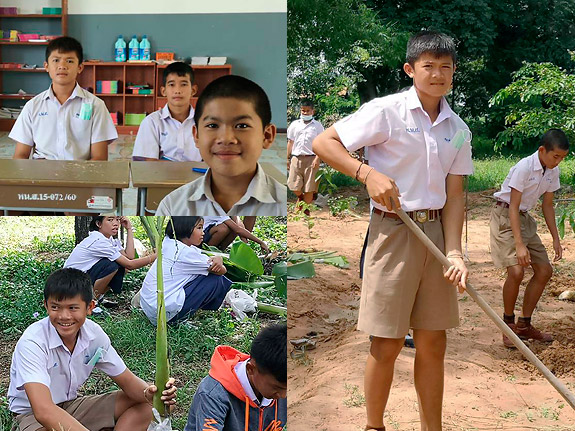 Nong Aiun returns to school last semester and he is now in grade 7.
Donors are very kindly donating several school uniforms and a new pair of shoes to me. I'm very happy because the old one was already worn out as I have been wearing it for so many years since elementary school. I promise to be a good boy and I will to study and will not disappoint everyone. Thank you all for everything you gave to me. I wish you all the happiness and stay healthy.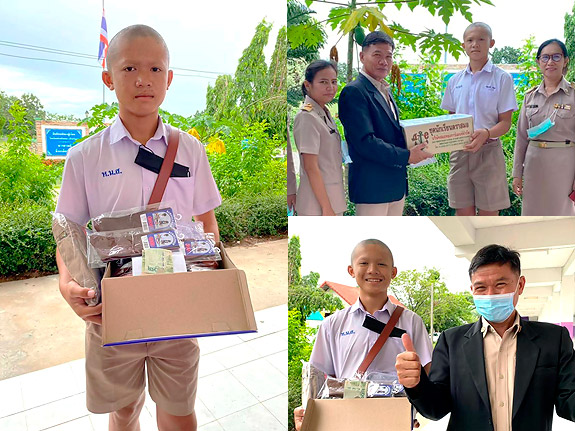 In addition to the scholarship, Nong Ai Un also receives additional assistance
from donors such as some learning materials, school uniforms and shoes.
In the coming 2022, EDF estimates that no less than 10,000 students in need will apply for EDF Foundation scholarships

to continue school and secure their future through education just like Nong Aiun. Providing them with even a little from you can help change the world of underprivileged students. Through the scholarship program, the EDF Foundation can make a big difference in the future of these children in need.
Please don't let the hopes of these children fail because of
"poverty"
.