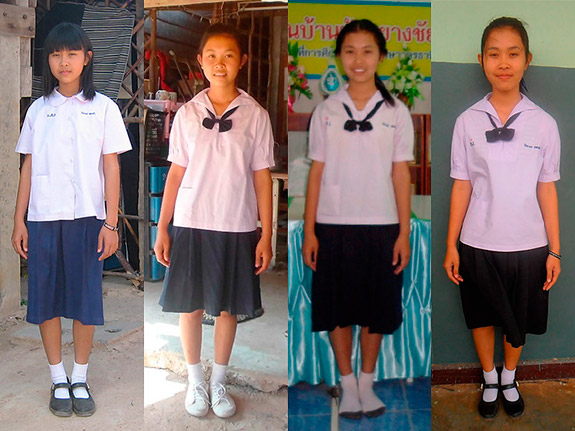 Chompoo's photo. When she was an EDF scholarship student
from 2014 until 2016
I live in an old and run-down wooden house that my grandfather and grandmother built when they got married. In fact, one of my earliest recollections as a child was about grandpa dressing me up, while grandma was cooking my food for breakfast before going to school. My grandparents were farmers, so you can say I grew up in a farm.
While growing up I occasionally got asked who my real father was. I was never able to answer that question as I never knew who my real father was. I asked my grandparents about it but I never got a clear answer. When I was 14 years old, I saw my birth certificate for the first time, but my father's name was listed as "anonymous". I asked my mother about my father. She said my father left her when she was pregnant with her. I was hurt but it never made it a hindrance to my life.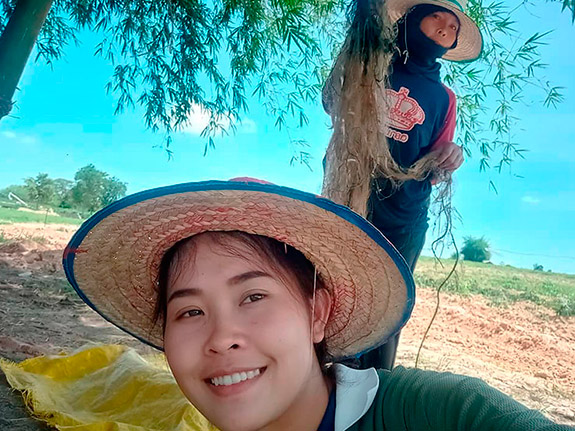 Nong Chompoo, while helping her mother catching fish
to cook and some to sell for feed the family.
When I was in junior high school, I received EDF scholarship. I used the scholarship funds to pay for tuition fees, school meals, transportation, internet fee and the cost of printing worksheets and reports. The scholarship helped me complete lower secondary school. Before the scholarship, my family went in debt to support my education.
During my upper secondary school level, my grandparents and my mother had to work extra hard to support me until I finished Grade 12. We sometimes had to borrow money from neighbors just so I could go to school.
After finishing high school, I enrolled at the Faculty of Education and Educational Innovation (English Language), Kalasin University. By that time, the COVID-19 pandemic was already in full effect. My mother lost her job and returned to our province to work as a menial worker earning a mere 300 baht per day to support the whole family.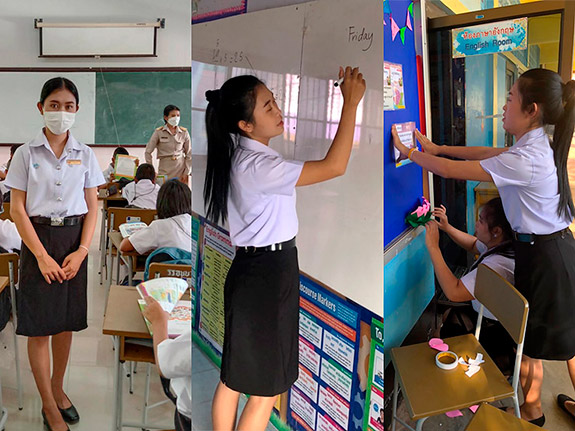 Nong Chompoo, while working as an assistant teacher.
She is determined to become a teacher as she intended.
I would like to further my education, so I applied for the Government Student Loan program (Gor-Yor-Sor) to support my university education. I continue doing part time work during semester breaks, such as writing articles, printing jobs etc. to have extra earnings.
I am a true believer in the value of education and the opportunities it could open up. After completing bachelor's degree I would follow my plan to be a teacher. I will continue saving money to pay for a master's degree, and hopefully become a school principal one day.
EDF scholarship
and donors are a big part of me. I am truly thankful about their support. I would like to thank them personally though if I ever get the chance to meet them in person.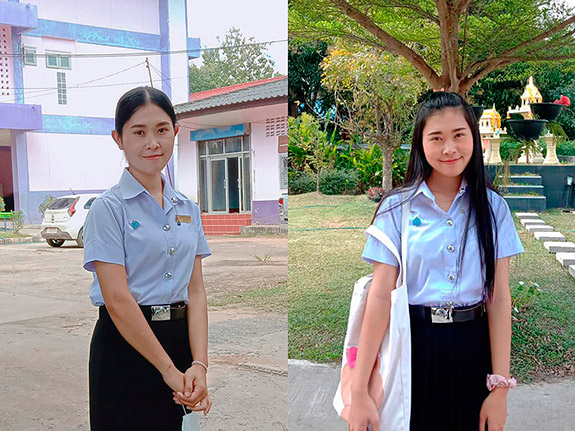 Chompoo has a plan to send herself to study till she receives
a master's degree, if she receives a bachelor's degree.
In order to pass the director's examination
Their kindness and generosity have helped support students who did not have enough funds and the means to go to school.
For every new EDF scholars out there, please regard the support as an opportunity for a better future. It is a chance we can't afford to waste.
For every previous scholar who has now found a better life, let us be a part of
EDF
and help other poor children as well.
It is fitting to say.
"When you arrived at your destination, you must not forget where you came from."