A Neglected Life
she lives with her grandparents and her two-year-old stepsibling. Kwan is one of the many students who have applied for EDF 2010 scholarships.

In March 2010, Kwan is going to graduate from an elementary school called Banhan School in Seekew district, Nakhon Ratchasima Province. When she was very young, her parents separated, leaving her behind with her handicapped and ill grandfather and elderly grandmother. All her grandfather can do to make a living is recap bicycle's tires. Her grandmother also helps support the family by working during rice and tapioca harvesting seasons. But in recent years, she has seldom been hired due to the decreasing yields. After Kwan's mother left a child from her second husband with them, Kwan and her grandparents have experienced a tougher time.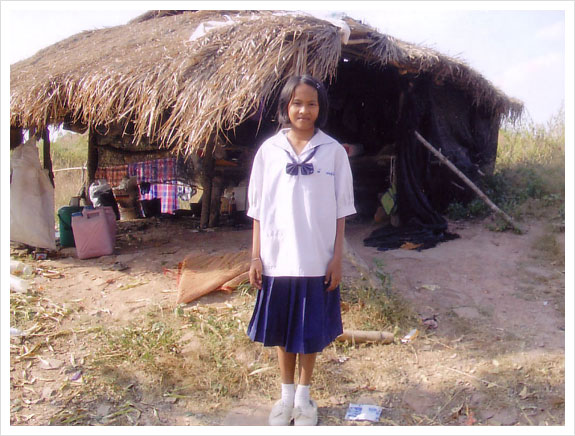 At times, Kwan will feel neglected because her parents hardly care for her. She said, "Once my mother came home, I felt very glad. I missed her so much. I wanted to hug her, but she told me that she came here to take her younger child out to play. At that time, I felt so sad. It's like my mother and father have forgotten that I am their child as well." Although Kwan feels neglected and hurt, she has nothing against her stepsibling. Instead, she takes care of her very well. Kwan's teacher said, "Lacking warmth and love from her parents, Kwan used to be quiet and introverted. She always looked worried. However, since her younger stepsibling came to live with her, she has become a lively and responsible girl as she enjoys looking after her stepsibling. Moreover, her academic performance has also improved."

Kwan spends time after school and on the weekends digging bamboo shoots, collecting red ant eggs, catching fish and picking vegetables. Not only does she bring them home to cook but she also sells them for money. She never gets an allowance for school however. She brings only rice for her lunch everyday to school. Cooked food is usually provided by the School Lunch Project, which she has joined. Sometimes, her teachers pack some food for her so that she can bring it back home to eat with her family.
 
น้องขวัญจะรู้สึกน้อยใจเสมอว่าเธอถูกลืม เพราะพ่อแม่ที่แยกทางกันไปแต่งงานใหม่ แต่ก็อยู่ในพื้นที่จังหวัดเดียวกัน แต่ไม่เคยแม้แต่จะมาเหลียวแลเธอเลย เธอเล่าให้เราฟังว่า "วันหนึ่งแม่กลับมาที่บ้าน หนูรู้สึกดีใจและคิดถึงแม่มากอยากจะเข้าไปกอดแม่ แต่แม่บอกว่ากลับมารับน้องไปเที่ยว แล้วก็กลับไปกับน้อง ตอนนั้นหนูเสียใจมาก เหมือนพ่อกับแม่ลืมไปแล้วว่ายังมีหนูอยู่อีกคน" แม้จะรู้สึกน้อยใจแต่น้องขวัญก็ไม่เคยโกธรหรือเกลียดน้องเลยแต่ดูแลน้องเป็นอย่างดี คุณครูของน้องขวัญเล่าให้เราฟังว่า "น้องขวัญเป็นเด็กเงียบ เก็บตัว และคิดมาก ตามประสาเด็กขาดความอบอุ่น แต่พอมีน้องมาอยู่ด้วย น้องขวัญก็ดูมีความสุขมากขึ้นจากการได้ดูแลน้อง และผลการเรียนก็ดีขึ้นด้วย"

หลังเลิกเรียนและวันหยุด น้องขวัญจะไปเก็บหน่อไม่ ไข่มดแดง จับปลาและเก็บผัก เพื่อนำมาขายและมาทำกับข้าวให้ตากับยายและน้อง น้องขวัญไม่เคยได้เงินค่าขนม ทุกวันน้องขวัญจะห่อข้าวเปล่ามาโรงเรียน โดยครูจะแบ่งอาหารจากโครงการอาหารกลางวันของโรงเรียนมาให้ บางวันครูก็จะแบ่งกับข้าวใส่ถุงไปให้กินที่บ้าน