Teerawat lives with his grandmother and other 4 same-age cousins left by relatives in the grandmother's care. Grandmother was once able to earn money from weaving but she does not do this job anymore due to old age and poor eyesight.

Their only income is from Teerawat's step-father and his mother, working as daily workers in Pathumthani Province who send money to them more or less, depending on the monthly unstable incomes. After aggregating grandmother's allowance for the elderly of 500 Baht per month, grandmother has total money to support those 5 children and their education not more than 2,000 Baht per month.

Teerawat's mother was separated from his father since Teerawat was a baby and after that his mother has married a new person and moved to work as a daily worker at a piping system factory in Lumlukka District, Pathumthani Province for almost 10 years.

Teerawat's teacher told us that "Teerawat and his cousins altogether receive a pocket money to school 10-15 Baht for each day. If their parents send them less money in any month, they won't have a pocket money and teachers will always share them lunch. As for the study, Teerawat does not score a good grade. He is quiet and withdrawn from others which may be because of lack of family warmth and support when he was young. However, he wants to continue to study in grade 7th because he wants to get a good job and a good salary for supporting his grandmother."

On October 2011, the flood flowed into his step-father and mother's factory causing the closure of the factory. Those 6 lives then have to live by the allowance for the elderly of 500 Baht per month distributed to grandmother solely.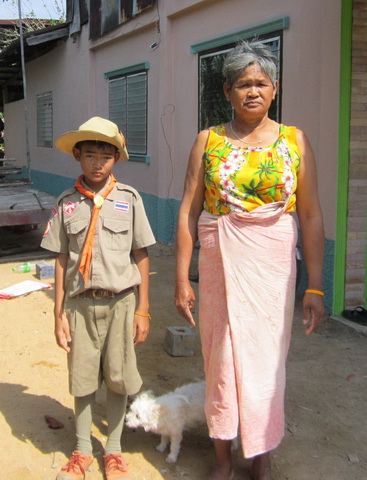 Teerawat and grandmother, Nuan Krut-rum, who has supported him since he was a baby.


Teerawat told us that "My father (step-father) told me about the flood too. I only know that my father's factory asks to stop working because of the flood. Father and mother then moved to live at the father's hometown at Wang Namkeaw District, Nakorn Ratchasima Province with father's relatives and they need to wait for the factory's notice of the decrease of the flood level. After the flood, my father has not sent any money to grandmother. I feel very sorry about this flood incident because without it, my father and mother would have worked and sent money to me and my brothers and sisters so that we are able to go to school."

We had a chance to speak on phone with Mr. Sanong, a step-father of Teerawat about what happened and he told us that "I and Teerawat's mother work as laborers for construction contracts, including constructing houses or factories and piping at a company in Lumlukka District, Pathumthani Province for more than 10 years. At the beginning, we earned regular salary every month but later the salary system was canceled and replaced by a compensation system where we will get paid only for each job done; if there is a work to do, we can earn something but if there is no work to do, we won't earn anything. Our earning is therefore unstable. I sometimes have to hire a taxi to make some money. After the flood has flown into Lumlukka, the company was flooded all over because it is a one-story warehouse. The employees have been instructed to cease their work for many months. I don't' know when we will be called back to work. Driving taxi is also impossible. Being not a regular employee, I don't receive an allowance for flood victims provided by the government like others. Now, I'm worried about my child (Teerawat) although he is not my real son, but I have known him since he was a baby. I wish he can study in a high-level education so that he will not have to work as a daily worker who lives from hand to mouth like me and his mother."

Teerawat's story is another side of life story which can reflect well the difficulty arising from this flood crisis. There are numbers of poor people living in rural areas who move to work in Bangkok and metropolitans subject to the flood crisis. Not only the people living in the flood area are impacted, their children and families indirectly become victims as well despite living in the rural areas since the main persons in the families who work in the flood area become unemployed and lose their earnings. Such impact certainly destroys those children's educational opportunity because the main educational expenses are not only a tuition fee or uniform expense, travelling expense to school and meal expense are also necessary for their livings which enable them to study with their full potentials.

You can help these children through EDF's scholarship program for secondary education level by donating only 2,000 Baht per year or 200-500 Baht per month to give their opportunity in returning to school happily in the upcoming 2012 academic year.